Bill Cosby's wife Camille Cosby slammed the prosecution and judge and thanked their supporters after the star's sexual assault case ended in a mistrial Saturday.
The 79-year-old Cosby Show star was accused of felony aggravated indecent assault for allegedly drugging and sexually assaulting Andrea Constand at his Philadelphia home in 2004. A Pennsylvania jury has been deadlocked since Thursday, four days after it began deliberations, and declared Saturday it was still unable to reach a unanimous verdict. A judge then declared a mistrial and granted the district attorney's request for a new trial.
"How do I describe the district attorney? Heinously and exploitively ambitious," Camille, 73, said in a statement posted on her husband's Twitter page Saturday. "How do I describe the judge? Overtly and arrogantly collaborating with the district attorney. How do I describe the counsels for the accusers? Totally unethical."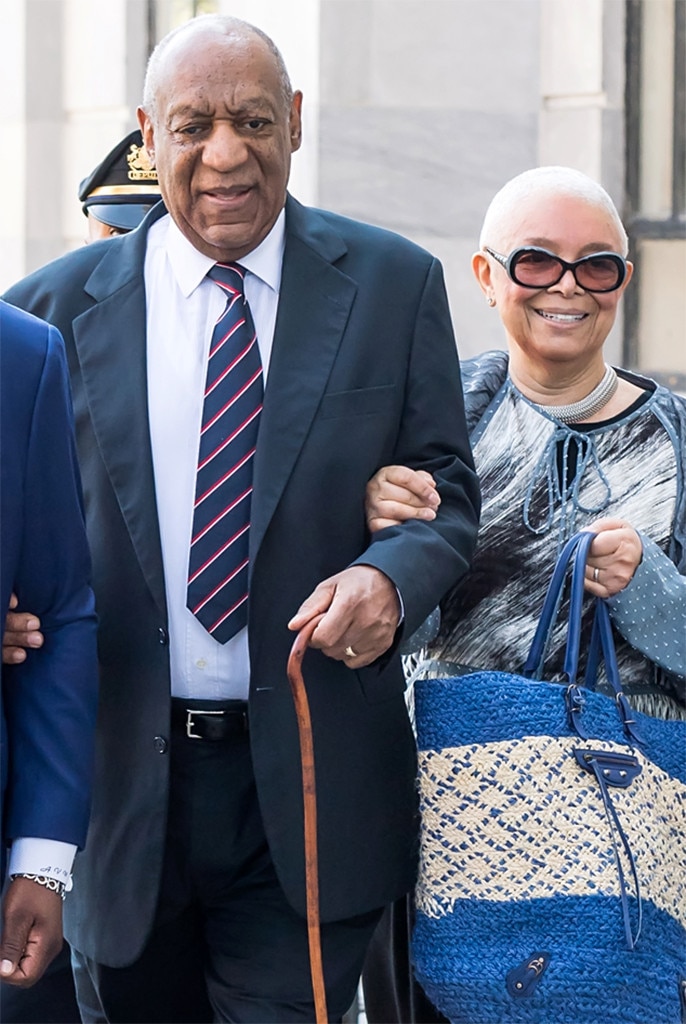 Gilbert Carrasquillo/WireImage
"How do I describe many, but not all, general media? Blatantly viscous entities that continually disseminated intentional omissions of truths for the primary purpose of greedily selling sensationalism at the expense of a human life," she said. "Historically, people have challenged injustices. I am grateful to any of the jurors who tenaciously fought to review the evidence; which is the rightful way to make a sound decision…ultimately, that is a manifestation of justice, based on facts, not lies. As a very special friend once stated, 'Truth can be subdued, but not destroyed.'"
Camille also thanked Cosby's lawyers for their "hard work," the family's staff members, their "children, grandchildren and other family who loves us" and their "dear friends and supporters, who never gave up on us, despite it all."
The Cosbys are parents to four daughters.
District Attorney Kevin Steele has not responded to Camille's angry statement.
Speaking at his own press conference, he called Constand "courageous."
"She is a positive person and has kept all of us going while waiting for the jury to come back," he said. "She will continue to cooperate with us and I look forward to her getting a verdict in this case."
The actor has not commented himself on the judge's decision for a mistrial and the start of a new trial, which is to begin within 120 days. He thanked supporters on Twitter on Friday. He appeared expressionless at a press conference Saturday.
Cosby's rep introduced and praised the star's lawyer, Brian McMonagle, saying, "Johnnie Cochran is smiling down," referring to the late attorney who helped represent O.J. Simpson during his 1995 murder trial.
"We came here looking for an acquittal," McMonagle said. "But like that Rolling Stones song says, 'You can't always get what you want, sometimes, you get what you need."