Britain's Andrew Musgrave finished a battling seventh as Norway claimed all three medals in the men's 30km skiathlon at the Winter Olympics in Pyeongchang.
Musgrave was with the leading group throughout the race and moved into second, behind only eventual winner Simen Hegstad Krueger, with just over 5km remaining in one of the sport's toughest tests.
But Krueger's incredible change of pace caught Musgrave and the rest of the field out, and the three-time Olympian from Scotland had to settle for a top-10 finish, just behind reigning champion Dario Cologna of Switzerland and 25 seconds off the gold medal winner.
Musgrave's result was a clear best for Great Britain at the Olympics and comes after 12 months of strong form, which included a fourth place in the 50km freestyle at the 2017 World Championships and a first World Cup podium in the 15km freestyle in Italy earlier this season.
He said: "I'm a little disappointed, I felt really good. I felt awesome with about a lap and a half to go and I felt that I would be in the fight for the victory. I just ended up going a little bit too hard on the last lap.
"After that, until about 2km to go, I was still thinking I could be in the fight for silver and bronze but the second to last hill, I just realised my legs were a little bit heavy and I didn't quite have enough in the tank.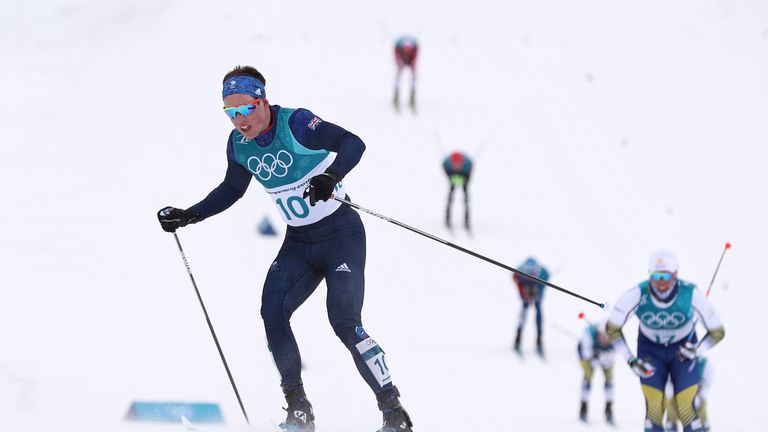 "It does give me a bit of confidence today. The 15km should be my best event. I was in the fight for the medals here until the last couple of kilometres. So when this isn't my best, come Friday I should be in the fight for the victory."
Krueger stormed clear of the field on the closing two laps to claim gold, his impressive victory all the more remarkable after an early fall which left him some way adrift of the leading group.
He had made up most of that deficit on the first 15km leg, which features the classic style of skiing, before dominating in the closing stages of the freestyle leg.
Although Krueger was being reeled in by the finish, he still had eight seconds in hand on team-mate Martin Johnsrud Sundby with Hans Christer Holund rounding out the all-Norway podium in third.