By James Dale
Last Updated: 03/07/17 2:58pm
Watch John Terry explain why he decided to join Aston Villa
John Terry has confirmed he snubbed Premier League offers for Aston Villa because facing Chelsea would have been "too much".
The former England captain signed for Villa on a one-year contract which could see him earn £4m if he can achieve his ambition of taking the club back to the Premier League, according to Sky sources.
The 36-year-old had offers from West Bromwich Albion, Swansea and Bournemouth, but admitted he turned them down out of loyalty to his former club.
"For me it was just the mental side of playing against Chelsea, it was just too much to get over for me," said Terry.
"I was 22 years at the football club, 22 unbelievable years, I'm very proud of that but this is a new chapter in my life, my career. I wish Chelsea well next season and will be watching out but my thoughts are 100 per cent here."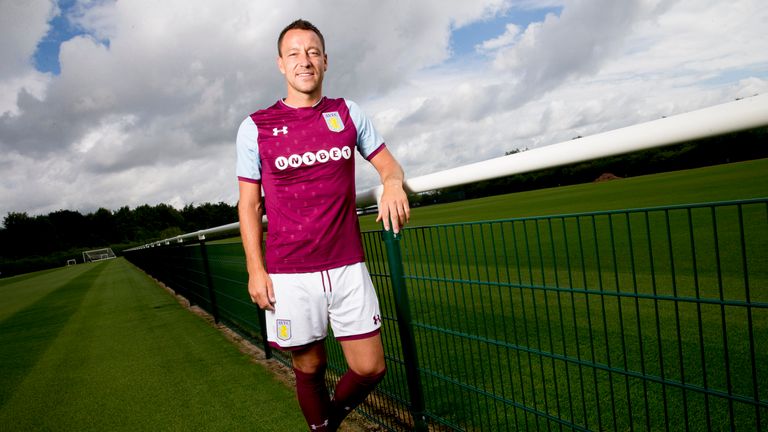 Terry poses at Villa's training ground after signing a one-year deal with the Championship club
Terry confirmed there is no coaching role involved in his contract with Villa, but was reluctant to indicate whether he would continue his playing career at Villa Park should they get back to the top flight – where he would meet Chelsea.
"If that's the ideal situation and in one year's time we're sitting here with Aston Villa back in the Premier League then I've done my job and everyone else has done theirs," he added. "We can cross that bridge hopefully when we come to it."
Terry's deal will make him one of the highest earners ever to play in the Sky Bet Championship, according to Sky sources, and although Steve Bruce admitted discussions had started two months ago, he insisted money was not the deciding factor.
"Money wasn't the issue, I have to be fair to John," said Bruce. "We talked about coaching and how we can help him do his badges. It was all to do with football, money was never really mentioned."
Terry, who was pictured playing golf with Bruce earlier this summer, added: "A few conversations with Steve have helped me get here as well. I'm very hungry to still play at the top at a club that has got the same ambition as me to win and get promoted. That is why I'm at Aston Villa.
"With things going to an end at Chelsea I put a lot of things to the side. A lot of managers were respectful of that, but it was bubbling after that, phone calls, text messages, and then obviously I bumped into Steve in Portugal as well."
Terry's career has now come full circle after making his debut for the Blues against Aston Villa in the 1997/98 season, aged just 17.
Steve Bruce says Villa's signing of Terry is a message of intent to their Championship rivals
Despite Terry's advancing years, Bruce admitted the signing was potentially the biggest of his career, and defended the club's investment.
"We'd have loved to have signed him when he was 26, not 36," Bruce joked. "But he's in excellent shape for his age. It's what he can bring to the dressing room and the whole football club. It's a statement of intent.
"He's certainly the most decorated [Championship player], and when you've got the calibre of John Terry you'll ultimately cost a fair few quid, but he's worth every penny.
"I think John can play beyond this year, but that will be up to him. I think a lot of people have retired too early."