Last Updated: 13/06/17 11:40pm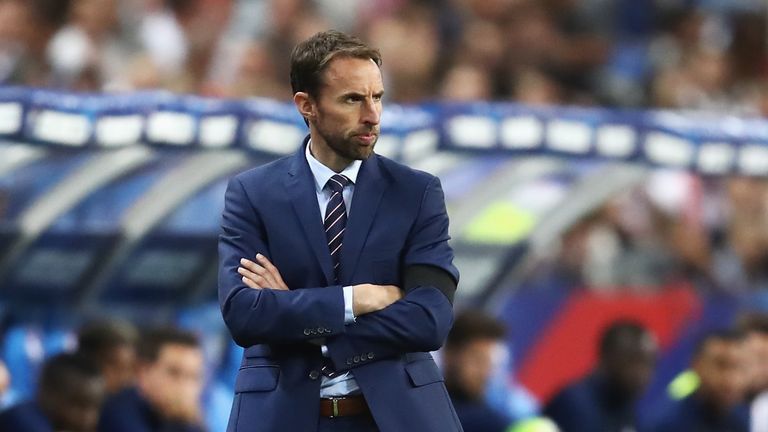 Gareth Southgate admitted it was a mixed evening for England in Paris
Gareth Southgate admits we saw both the good and bad of his England side in the 3-2 defeat by 10-man France on Tuesday night.
Harry Kane scored twice for England in Paris, but a late goal by Ousmane Dembele gave France the victory, having had Raphael Varane earlier sent off.
England manager Southgate praised his side for causing France problems with the ball, but said their quality without it was a concern.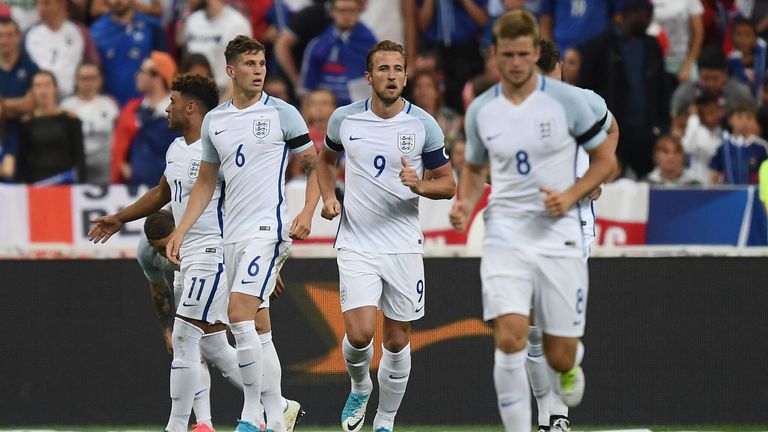 Harry Kane (centre) celebrates having scored twice for England
He told Sky Sports: "Over the 90 minutes we saw the things that we are very good at, and with the ball we caused France a lot of problems, created chances and looked dangerous.
"We scored the two goals, and then we saw the other side that we have to get better at, and that was some of our work without the ball, and our managing of the game, particularly when it went to 2-2."
England went three at the back against France, as they did in the defeat by Germany in March, and though they looked threatening on the ball, Southgate admitted France's pace and power was too much for his side.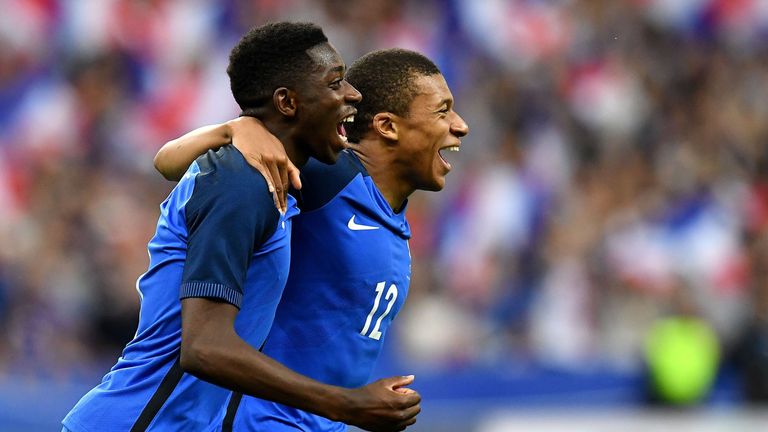 Ousmane Dembele (left) scored the winner for France
"I thought the three at the back worked really well, up to 2-2 I think it gave us good options on the ball, we moved the ball well and caused France problems with that.
"Whichever system we played we had a problem with their pace and power. That raw athletic ability that France have is what makes them one of the most difficult teams to play against."
"It is definitely something which France at all age groups have. They are blistering, and they will cause you huge problems on the counter attack if you're not supremely well organised.
England and France pay emotional tribute to terror attack victims with Oasis classic 'Don't Look Back In Anger'
"At times we want to press, but we have to be spot on against a team like that, if you leave gaps at the wrong moments they will exploit it, and that's what they did tonight."
Kieran Trippier made his England debut, while Tom Heaton also got his first start in goal at the Stade de France.
Southgate praised both for their performances, and also had good words to say about both Kane and Raheem Sterling.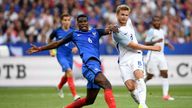 As it happened
All the action is at unfolded at the Stade de France on Tuesday night
"I think both players [Heaton and Trippier] had some really good moments. It's difficult to assess fully without watching it back, but I thought there were some positive individual performances.
"I thought Raheem Sterling caused a lot of problems in his position, and I thought Harry Kane in the first 50, 60 minutes really led the line well.
"I go back to the original point, a lot of the play with the ball was good. It seems after 2-2 they went up a level, and we didn't manage that period of the game well, we should have kept the ball a lot better."