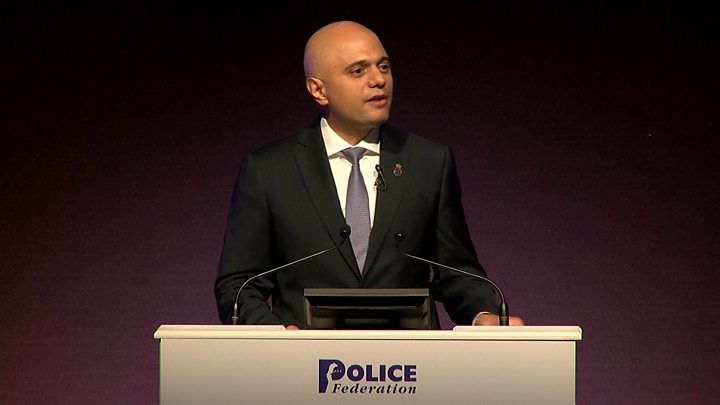 Sajid Javid has promised to ensure police officers have the resources they need to meet the challenges they face.
The home secretary, whose brother is a chief superintendent in the West Midlands, pledged in his first Police Federation speech to provide the "tools and powers" frontline officers need.
"I've seen the impact the job has had on family life", he said.
Labour said his commitments were "nothing beyond platitudes" and that action is needed, not just words.
Mr Javid's predecessors have often been criticised by the Police Federation for cutting police budgets.
He promised to prioritise police funding during the next Home Office spending review.
Mr Javid said £1bn more was already being invested in policing compared to three years ago.
But he acknowledged police forces were under pressure as violent crime increased and the terror threat evolved.
"I'm listening and I get it," he insisted.
He leant his support to stop and search powers, saying: "Some of you don't feel comfortable using it – and that's not how it should be.
"I have confidence in your professional judgment. So let me be clear – I support the use of stop and search.
"You have to do your job and that means protecting everyone."
He made a particular commitment to roll out protective equipment to tackle the assault of police officers – including controversial spit and bite guards.
Shadow Policing Minister Louise Haigh rejected Mr Javid's claim he "gets it" saying the phrase demonstrates "denial" over the effects cuts have had.
"He claims he wants police to have the resources they need, but offers nothing beyond platitudes and the same inadequate funding settlement," she said.
"The time for talk has come and gone. The only way Sajid Javid can deliver a 'fresh start' is by putting an end to the Tories dangerous cuts to our police."
Mr Javid became home secretary in April, after Amber Rudd resigned her position amid the Windrush revelations.
The federation, which represents rank and file officers across England and Wales, has previously shown home secretaries a frosty reception.
Laughs, real figures and appreciation
Analysis by BBC home affairs correspondent Danny Shaw
Everything was different about this home secretary's speech to the federation.
Sajid Javid was applauded onto the stage, and off it. Federation members in the auditorium laughed at his jokes.
And, there appeared to be genuine appreciation for his supportive comments about the police service.
Unlike Theresa May, and to some extent Amber Rudd, the new home secretary didn't quibble about the crime figures, acknowledging that serious violence was on the rise. He accepted forces were over-stretched.
And he came close, the closest any government minister has come, to admitting that, in the phrase favoured by the federation, "cuts have consequences".
Later, in a short briefing with reporters, Mr Javid said his comments about resources were directed at future needs.
But there's no doubt that this 48-year-old brother of a police officer intended his speech to signal a break from the past, and in its tone and substance he managed to achieve it.
As of September there were 121,929 officers across the 43 forces, a fall of nearly 20,000 people compared to 10 years ago.
Police cuts have come under scrutiny after figures have shown an increase in knife and gun crime..
In London 52 people were killed in the first 100 days of 2018, which raised serious concerns about a rise in violent crime.
Mr Javid insisted that he is "absolutely determined" to end the violence that is "terminating young lives far too soon".
Referring to his brother, Mr Javid added: "He's been hurt more times than I want to know from being assaulted on duty.
"I've seen the impact the job has on family life. And, as you would expect from a brother, he doesn't shield me from the truth."
He concluded: "For those of you who stand in the front line, be in no doubt that I will be standing with you."
'It's in the family'
Mr Javid said he wanted to "reset the relationship between government and the police".
He made much of his relationship with his brother, to emphasise a new level of understanding in the Home Office.
He said that while he knew "you might be thinking 'you're not one of us', as no home secretary has ever served as a police officer", he said he was the first home secretary "with a police officer in my immediate family".