Listen up, snack connoisseurs! Beef jerky isn't just for manly men. 
In celebration of National Beef Jerky Day, Olivia Munn announced her investment in Chef's Cut Real Jerky and for good reason: She's shed a few pounds after introducing it into her diet. Olivia told E! News' Catt Sadlerit was beef jerky that helped keep her "weight down" after she saw the number on the scale fluctuating before and after filming X-Men.
The actress explained, "Two years when I was shooting X-Men I lost a bunch of weight working out and doing martial arts and didn't even realize it." Munn said that she began "reaching for protein bars a lot because I thought that was being healthy," but actually ended up gaining weight because of their high sugar and carbohydrate content.
Enter beef jerky, which the 36-year-old said answered all her dietary concerns.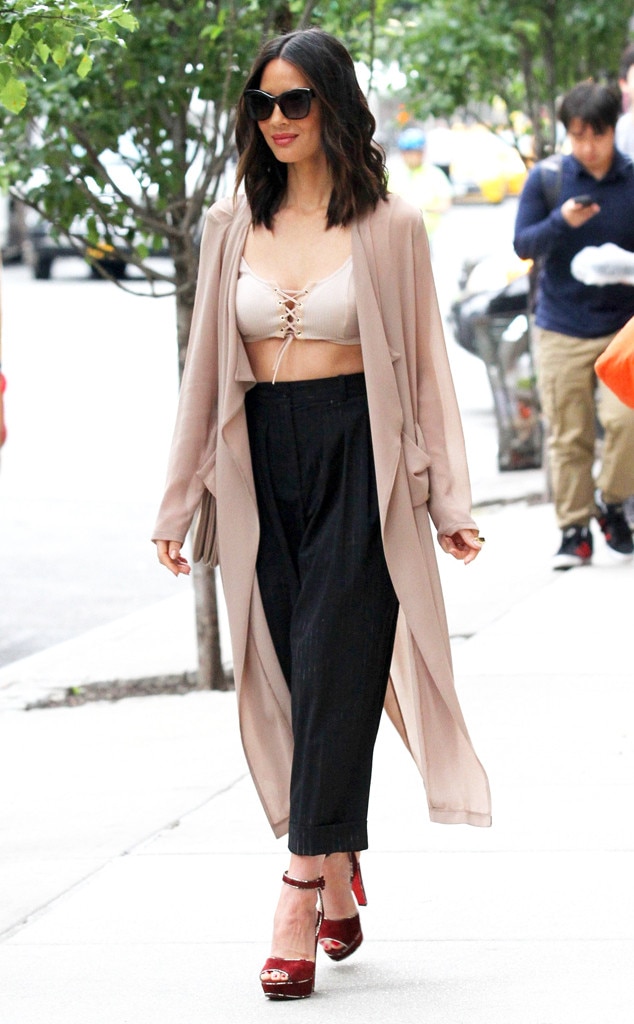 BrosNYC / BACKGRID
"I love jerky first of all, but then I looked and it was a lot less sugar and carbs and it was super high in protein," Olivia recalled. "It was a lot easier than carting around a Greek yogurt because that's what I was doing at the time."
She continued, "That's when I started leveling off my weight. I was able to maintain it because it's so delicious. It's like steak in a bag." Who knew?!
In addition to cutting down on sugar and carbs ("Boring" in Munn's words), the Newsroom star revealed of her fitness regimen, "I did Tae Kwon Do growing up and started again for X-Men. That's the one thing I've been doing."
What's the one fitness fad Olivia refuses to participate in? SoulCycle, the extremely popular workout craze that has celebs like Vanessa Hudgens, Katie Holmes and Anderson Cooper riding bikes on the daily. Olivia admitted, "People go crazy for it and I just can't do it. I have to do something where there's a goal. I'll do a million squats if it means I can learn to do this 360-degree kick."
So before you grab for the nearest bag of beef jerky, find out Olivia's favorite cheat meals by watching the video above! Happy snacking!