The widow of a dead US soldier says Donald Trump could not remember her husband's name when he phoned to offer condolences.
Myeshia Johnson, widow of Sgt La David Johnson, told ABC News the president's "stumbling" and tone "made me cry".
But President Trump said that he had used Sgt Johnson's name "without hesitation" and described the conversation as "very respectful".
Sgt Johnson was killed in Niger by Islamist militants this month.
Facebook post defending Trump is fake
Five reasons Trump's widow story stings
How did US soldiers die in Niger?
President Trump's call of condolence made headlines last week when Democratic congresswoman Frederica Wilson – who had heard it along with the family – accused him of insensitivity.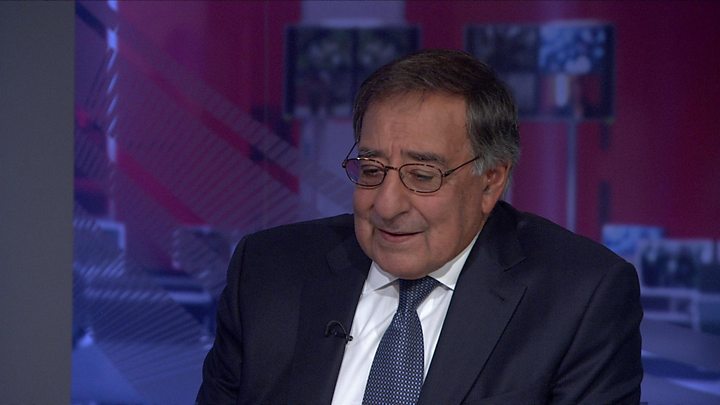 Myeshia Johnson appeared to confirm Ms Wilson's assertion that Mr Trump had told her her husband had known what he had signed up for when joining the military.
"The president said that he knew what he signed up for, but it hurts anyways… It made me cry because I was very angry at the tone of his voice and how he said it," she said.
"He had my husband's report in front of him, and that's when he actually said La David. I heard him stumbling on trying to remember my husband's name."
"If my husband is out here fighting for our country and he risks his life for our country, why can't you remember his name?" she added.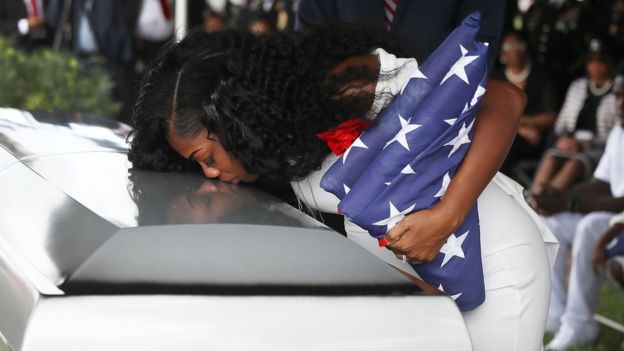 No-win situation
By Anthony Zurcher, BBC News, Washington
The Donald Trump condolence-call story is a White House headache that shows no signs of abating.
It started badly for the president, as he responded to a question about US military casualties in Niger by questioning how his predecessors had dealt with the families of war dead.
It got worse, as the story morphed into one of an allegedly callous presidential call to Myeshia Johnson, a grieving widow of one of the US soldiers killed in Niger.
Now it's devolved into a he-said, she-said debate. Democratic Congresswoman Frederica Wilson – who knew the slain soldier – and Ms Johnson and her family claim the president mishandled the call, while Mr Trump and Chief-of-Staff John Kelly insist everything went smoothly.
Needless to say, arguing with a war widow is a no-win situation, regardless of who has facts on their side. President George W Bush notably withstood harsh criticism from some bereaved families during the Iraq War without swiping back.
This president is different, which should come as a surprise to no one at this point. His choices could come at a high political price, however.

How did Trump respond?
President Trump defended himself on Twitter on Monday, writing: "I had a very respectful conversation with the widow of Sgt La David Johnson, and spoke his name from beginning, without hesitation!"
He has dismissed the account of the phone call given by Ms Wilson as "totally fabricated".
Speaking to reporters, he said: "I did not say what she [Ms Wilson] said… I had a very nice conversation."
The White House said Mr Trump's conversations with the families of dead servicemen were private.

How did this row begin?
Sgt Johnson was one of four US special forces soldiers who died in an ambush in Niger. Mr Trump was criticised for not contacting the families of the dead servicemen right after they were killed, or publicly commenting on their deaths until 12 days later when asked by a reporter.
He responded to this criticism by falsely claiming that his predecessor, Barack Obama, and other former US presidents had not called the relatives of dead service members.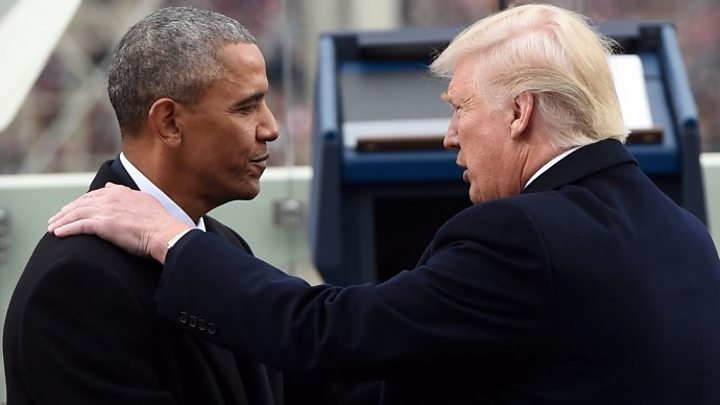 The row escalated when Mr Trump pointed out that his chief of staff, General John Kelly, after his son was killed in Afghanistan, did not receive a call from President Obama.
The White House later said Mr Trump had spoken to the families of those killed in Niger but did not say when.

What happened in Niger?
On 4 October, it was reported that three US soldiers on a reconnaissance patrol had been killed and two others wounded in an ambush near the West African nation's border with Mali.
Two days later, the body of Sgt Johnson was found by Nigerien forces, said the US military, making him the fourth American to die in the attack.
General Joseph Dunford, Chairman of the Joint Chiefs of Staff, said on Monday the Niger attackers had launched the ambush using small arms, rockets and machine guns.
He said the initial investigation points to local tribal fighters associated with the so-called Islamic State being the culprits.
Some reports suggest up to 50 militants may have ambushed the group.
After an hour of battle, the team requested support, Gen Dunford said. It is unclear why it took them so long to call for back-up.
Within another hour, French Mirage jets arrived. Later in the afternoon, French attack helicopters and a Nigerian quick reaction force turned up.

What are US troops doing in Niger?
There are 800 US troops in Niger, more than in any other African nation, said Gen Dunford. They are training local forces to take on Islamist militants, he added.
But the level of the deployment seemed to be news to some US congressmen.
At least three senators said on Monday they did not know so many American soldiers were in Niger.
Republican Senator Lindsey Graham, who sits on the armed services committee, admitted he had "little insight on why they [the US troops] were there and what they were doing".