By James Dale
Last Updated: 25/05/17 9:33am
Jose Mourinho (left) says Wayne Rooney was ready to be the 'key man' if needed in the Europa League final
Wayne Rooney is a "very important player" for Manchester United, says Jose Mourinho, who would be happy for him to stay.
United captain Rooney came on as a substitute in the final minute of the club's 2-0 win over Ajax in the Europa League final in Stockholm, which saw the club qualify for next season's Champions League.
Rooney, 31, has expressed a desire to stay at Old Trafford and be a part of that European campaign but admitted he wants to play first-team football.
Rooney came on in the final minute of United's 2-0 win over Ajax
Mourinho insisted he had prepared for Rooney to play a decisive role in Wednesday's final if required, and believes the former Everton striker can still have a big impact at the club.
"Wayne Rooney was ready to play, he was a big option," Mourinho said after the game. "But I didn't need to attack at 2-0.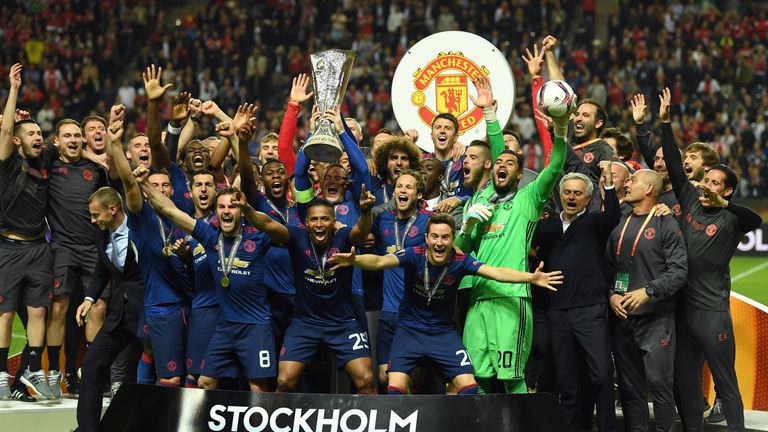 United captain Rooney lifted the trophy at the end of the game
"You have to control the game, you have to delay the changes, bring in players step by step.
"I told him yesterday that he could be the key man but he can perfectly be here next season.
"He is a very important player for us. If he stays next season I'd be very happy."
Rooney is expected to be left out of the England squad when Gareth Southgate names his selection for the upcoming games against Scotland and France on Wednesday, Sky Sports News HQ understands.