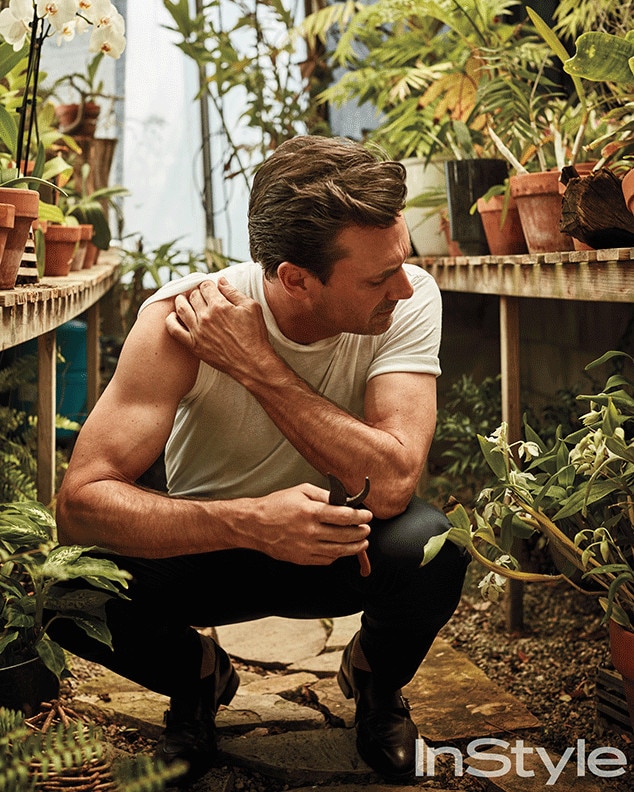 Carter Smith for InStyle
If you're trying to find Jon Hamm on social media, you better look again.
While many Hollywood stars rely on Instagram, Twitter and other outlets to highlight their accomplishments or communicate with fans, the Mad Men star doesn't see the need for it.
"The point of life is not to put dog ears on yourself and post it online for everyone to see," he shared with InStyle. "It's fun, it's adorable, but it's the visual equivalent of masturbating—there's no point other than immediate gratification."
That's not to say the actor doesn't admirer a few people online. According to the publication, Jon has a "stealth Instagram account" where he follows photographers, artists and a few travel sites.
And for the record, he's never posted anything on this top-secret account.
Online presence aside, Jon is kicking off the summer season in Hollywood as an eligible bachelor. In 2015, the actor split with his partner Jennifer Westfeldt after 18 years together.
When asked about the single life, Jon admitted that "it's fine."
"It's hard," he shared. "It's hard to be single after being together for a long time. It's really hard. It sucks."
For ladies hoping to grab the actor's attention, he admitted to InStyle that what a woman wears has an impact on him. "I think anything that serves to accentuate whatever your thing is and makes you feel good shows in the way you carry yourself," he explained.
Looking ahead, Jon is eager to start "self-generating" projects in Hollywood. At the same time, he continues to follow the lessons his mother passed onto him at a young age.
"Be smart, learn, sign up for stuff, play sports, do it all," he recalled. "Be the best that you can be."
Read the entire InStyle interview online now.