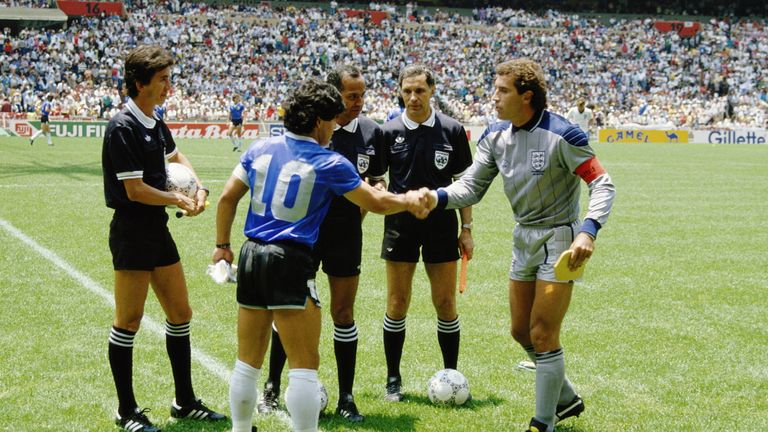 Bogdan Dochev (2nd right) ahead of the 1986 World Cup quarter-final between England and Argentina
The Bulgarian assistant referee, Bogdan Dochev, who failed to spot Diego Maradona's infamous 'Hand of God' goal against England in the 1986 World Cup has died at the age of 80, the Bulgarian Football Union have announced.
In the pulsating quarter-final in Mexico's Azteca Stadium, Maradona produced two of the most talked about goals in the history of football as Argentina dumped England out in contentious circumstances.
After hoodwinking officials with his first handball effort, he then left five England players lying in his wake as he scored on of the greatest solo goals in history.
Following the handball, TV images showed Tunisian referee Ali Bin Nasser running slowly backwards towards the centre of the pitch and looking at Dochev. The Bulgarian, however, did not wave his flag while stood absolutely still.
"Although I felt immediately there was something irregular, back in that time FIFA didn't allow the assistants to discuss the decisions with the referee," Dochev told Bulgarian media a few years ago.
"If FIFA had put a referee from Europe in charge of such an important game, the first goal of Maradona would have been disallowed."
But Bin Nassir had a different view, adding: "I was waiting for Dochev to give me a hint of what exactly happened but he didn't signal for a handball.
"The instructions FIFA gave us before the game were clear; if a colleague was in a better position than mine, I should respect his view."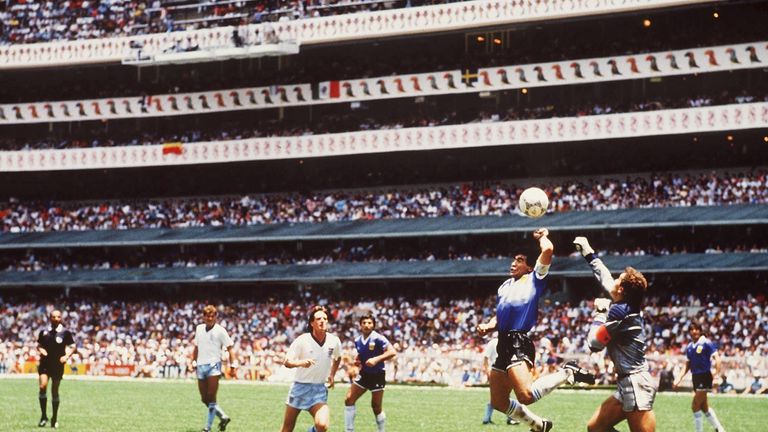 Maradona gave Argentina the lead with his infamous 'Hand of God' goal
Dochev, Bulgaria's top referee in the 1970s and 1980s, also officiated at the 1982 World Cup finals as well as dozens of European club competitions matches, including the 1983 UEFA Cup final's first leg between Anderlecht and Benfica.