Olivier Giroud says he still doesn't know if he will be an Arsenal player next season.
Olivier Giroud has told Sky Sports News HQ he does not know if he will still be an Arsenal player at the start of the season.
Giroud started just 11 Premier League games last term and has since seen his chances of more regular football hit by the club-record purchase of France team-mate Alexandre Lacazette.
And despite Arsene Wenger's insistence this week that "our resolution is to keep him here", Giroud's future remains uncertain.
"I honestly don't know," the striker said when asked about his position. "At the moment I'm still an Arsenal player so I'll try to be professional like always and prepare well for next season.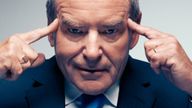 Sky Sports Fantasy Football
Pick your team, create a league and invite your mates for free here.
"Obviously there will be more competition, even more than last year, but it's always nice for a striker to feel the pressure and I always deal with it.
"I've been through some difficulties these last years but always succeeded to bounce back, but this one I don't know. I don't know about my future so I can't tell you more. I'm focused on my pre-season."
Giroud, who is two short of 100 Arsenal goals having joined the club five years ago, signed a new contract in January but has been targeted by West Ham and Everton this summer.