Written by
Arita Sarkar
| Mumbai |
Published:July 28, 2017 1:32 am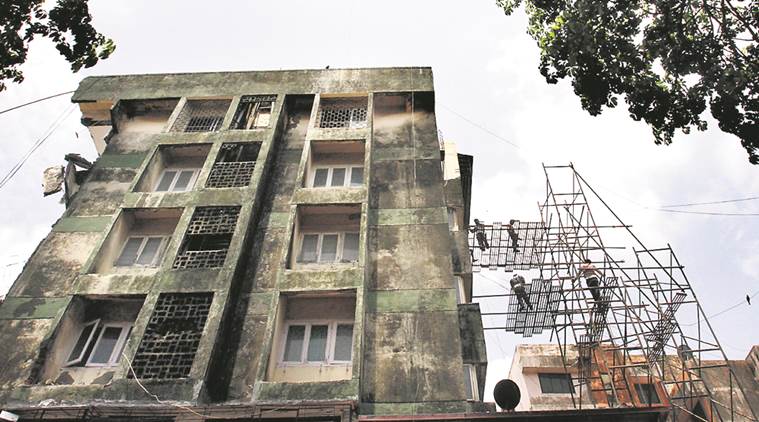 There are currently 626 buildings in the 'dangerous' category
EVEN as an investigation starts to find out whether structural changes in Ghatkopar's Siddhi Sai building had caused its collapse, there are hundreds of buildings in the island city and suburbs that have been declared dangerous and unfit for habitation following a pre-monsoon survey but continue to be occupied.
According to municipal officials, there are currently 626 buildings in the 'dangerous' category, with 498 of them still being occupied despite the residents having been served notices of eviction.
Officials of the building maintenance department said notices had been served to the 626 buildings since April this year. Of these, only 25 buildings were vacated completely and could be demolished. Another 103 buildings were vacated but are yet to be demolished, including 14 that were granted a stay on any further action by courts.
"People are still living in at least 498 buildings of which, stay has been granted to 136 and (cases related to) 34 of them are pending with the Technical Advisory Committee (TAC). While we have severed the water connection in 153 buildings, we are yet to do so in 175 others," said an official from the department.
The highest number of such buildings is in L Ward that includes areas like Kurla.
Among the 111 dangerous buildings here, 101 are private, three are government and seven others belong to the Brihanmumbai Municipal Corporation.
The lowest number of such buildings is in C Ward that includes areas like Bhuleshwar, Chandanwadi and Chirabazar. All three dangerous buildings here, however, are owned by the BMC.
The total number of structures classified as dangerous is, however, lower than last year when notices were sent to 816 buildings.
Over the past year, civic officials have demolished 196 buildings and another 134 of them have been vacated. Of the remaining 484, the court has granted a stay order on 141 and 21 cases are pending with the TAC.
People are still living in 166 of the buildings where the water connection is yet to be severed, the supply has been disconnected in 157 buildings.
Commenting on the slow rate of progress with evacuation in dangerous buildings, an official said every year they are able to evacuate about 30 per cent of the buildings.
"The new number recorded every year is the combination of pending cases as well as new cases added to the list. But because of the general mistrust between the builder in charge of re-development and the residents, no one is ready to vacate the buildings, even though they are in a precarious condition. In most cases, the residents are living in the only house they own and since we can only offer alternative accommodation to residents of BMC-owned buildings, there isn't much that we can change about the situation," said the official.
Ravi Sinha, a professor of structural engineering at IIT Bombay, said most people have an inaccurate understanding of the meaning of "dilapidated" buildings. "There is a common incorrect notion about dilapidated or dangerous buildings that it is on the verge of collapse. A dilapidated building is like a sick person who is found to be untreatable by the doctor but we cannot comment on the residual life of the patient or in this case, the building. Though the life of a building cannot be predicted, it cannot be said that the building will continue to stand strong. Thus, there is a tendency to stay back although it is not prudent to do so. The residents should be better sensitised about the meaning of dilapidated buildings," he said.
For all the latest India News, download Indian Express App