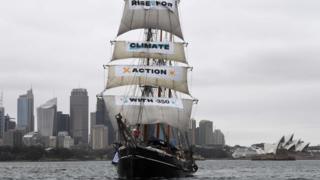 Environmentalists have held protests around the world demanding stepped up measures against climate change, ahead of a summit in California next week.
Politicians, business leaders and celebrities will attend the Global Climate Action Summit, whose sponsors include the UN, Facebook and Google.
On Friday Pacific island nations declared climate change to be the "single biggest threat" they face.
The demonstrations have been organised by New York-based group 350.org.
They began on Saturday with tall ships sailing into Sydney Harbour in Australia.
Australia remains heavily reliant on coal to generate electricity, but activists say the country must join an international push towards renewable energy.
In Bangkok, the capital of Thailand, environmentalists demonstrated outside a building where climate experts were discussing the 2015 Paris accord.
The agreement commits 188 other countries to keeping rising global temperatures "well below" 2C above pre-industrial levels.
Last year President Donald Trump announced the US would pull out of the deal, but this will not become effective until 2020 at the earliest.
Environmental groups accuse the US of using UN talks to reduce the contributions of developed countries to the Green Climate Fund, which was set up to help countries deal with the effects of global warming.
In Manila in the Philippines, demonstrators demanded an end to the funding of fossil fuel companies and more investment in renewable energies.
German environmentalists protested outside the open-pit Tagebau Hambach coal mine in the west of the country.
In France, where popular Environment Minister Nicolas Hulot quit in frustration last week, rallies were held in several cities, including Paris, Strasbourg and Marseille.