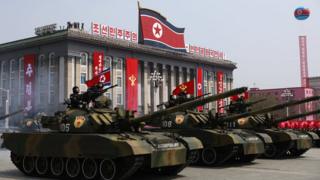 Sunday sees a huge birthday celebration in North Korea. Dazzling displays of discipline and devotion are expected for the 70th anniversary of the founding of the state.
Tens of thousands of local citizens will march in a painstakingly rehearsed parade which is bound to include at least some of the North's coveted military hardware. Even foreign television crews have been allowed in to the usually secretive state.
The cameras will most likely be told where to point and shoot. What they will fail to capture is the months and sometimes years of painful practice.
"These parades are emblematic of Pyongyang's 'theatre state', with tens of thousands of people mobilised in de-individualised displays of patriotic zeal, leader adulation and archaic ideological slogans," says Sokeel Park from Liberty in North Korea, an international non-governmental organisation that works with North Korean defectors.
"The North Korean people are to be seen and not heard. But each face in the masses of people who pass through Kim Il-sung Square represents an individual who may voice a different opinion, if given the chance."
'Our shirts caught fire'
Kim Ji-young now has that opportunity. The 36-year-old defected to South Korea six years ago. She was a university student in Pyongyang and took part in parades as a torch bearer. The aim was to recreate the night battles of North Korea's first Supreme Leader Kim Il-sung, who is said to have fought to free the nation from Japanese rule.
"It was a kind of firework festival with torches that made letters. It must have been rather cool to look from above at the letters burning with fire as young college students marched away. But our shirts caught fire from time to time.
"We practiced for six months, and all we needed to do was to hold the torch and walk. The lead marcher would shout 'Hurray Comrade Kim Il-sung the great leader!' and then we would reply three times 'Hurray, hurray, hurray'.
"Our eyes would be on the stage while walking forward and holding the torch in an absolutely perfect line and in synchronised steps."
But that mechanical goose-step movement does not come naturally, says Mrs Kim.
"You have to lift up the back leg at the same time your front leg hits the ground. This is very difficult. If you do this for six months, people lose a minimum of five kilograms [11lb]."
Organisers were told to strive for perfection. There were medals for those who did well. Others, I was told, were scolded if things went badly.
'Everyone suffered for it'
Noh Hee-Chang was a Workers' Party secretary, a high official. He defected from North Korea four years ago for political reasons. It was his job to select the most loyal families to take part.
"Looking back at it, it really was a painful experience. The people suffered but even the Party officials suffered because we had to guarantee the success of the ceremony from the beginning to the end."
The marchers would come from military academies or elite army units. Talented singers, dancers and gymnasts would also be chosen. All were selected because of their loyalty to the Kim family.
"You would have to do a check on each person," said Mr Noh. "The most important thing was their family roots. They must have a clean family record, loyal to the nation, all the way until their second cousins."
The defectors told me they had trained up to 10 hours a day for several months. Some would get sick or injured and replacements would have to be found. Mr Noh said feeding everyone, especially during the years of famine, became a real challenge.
Elusive treaty
So how does this fit with a leader who has promised to make the lives of ordinary North Koreans better? Kim Jong-un has declared that North Korea is now a nuclear nation and the country will focus on the economy. State media have also called for the day to be a "celebration of the victor and continuously expand the results of the big economic development march".
But it's thought Mr Kim had hoped to make a bigger and bolder announcement on this prestigious anniversary. Many analysts believe he wanted to achieve something his father and grandfather never did – a declaration to end the Korean War.
The fighting ended in 1953 with an armistice agreement. There has never been a peace treaty.
As talks with the United States have stalled, Mr Kim warmly received a South Korean delegation this week and reiterated his will to "denuclearise the Korean peninsula". He was frustrated, according to the officials from Seoul, that he is taking steps to disarm and yet the world does not believe him.
He reportedly said that he wished he could eliminate 70 years of hostile history with the US, improve North Korea-US relations and realise denuclearisation within the first term of President Trump.
That is, at least, the bare bones of a timeline and it seems Mr Kim is eager to do a deal with the US president, who responded in a tweet that they would "get it done together".
However, a key problem remains. Kim Jong-un may appear to be a more open North Korean leader but he still seems unwilling to let the world see beyond what he wants them to see. And on this occasion it is the parade.
Hidden from the cameras
The UN estimates that around 40% of the population, or more than 10 million people, need humanitarian assistance and about 20% of children suffer from malnutrition.
This year has been the hottest since records began on the Korean peninsula. North Korean state media described it as an "unprecedented natural disaster". The International Federation of the Red Cross Society warned that rice, maize and other crops were withering in the fields, "with potentially catastrophic effects", putting the country at risk of a "full-blown food security crisis".
Severe flooding in late August in the wake of a typhoon also killed at least 76 people, with nearly the same number missing and thousands left homeless by the destruction.
It's unlikely that the invited media will be shown these scenes of devastation. Media access remains tightly controlled despite Kim Jong-un's recent high-profile summits with the US and South Korean presidents.
Noh Hee-Chang remembers organising days of marching in the searing heat with very little to eat.
"Oh the hunger. The most important thing was being hungry. Especially, during Kim Jong-il's time, there was not enough to eat. All 100,000 people would work from morning to night and the biggest problem for them was not eating enough."
And yet I asked if he, as a manager, felt sorry for those in the parade. His answer was an emphatic no.
"In North Korea we have been taught that if a wall shakes, the mountain must shake as well. The meaning of this is that, if Kim Il-sung or Kim Jong-il says 'ah', then even the very lowest citizen who has a breath must say 'ah' and accept the order. We only know how to say 'yes sir'. That's how the system is set up."
A matter of survival
This display of loyalty and pride is seen as central to the success of the parades and of the nation. Mrs Kim remembered hearing the shouts of "Long Live" from her friends in the military as they passed their leader.
"They would shout so hard that their voices would be gone by the end of the 100-metre march. We would try to talk to them but they couldn't because their voice was gone."
As well as being a part of the spectacle, Mrs Kim said this was also a matter of survival.
"We were all children of mid- to high-level officials in the Party. So if word got out that someone had complained – then they could just disappear. So no one would complain.
"It must be fascinating at first for foreigners. But I want to tell them, these people worked so hard for six months without eating. They sweated and worked so hard for six months for what – 10 minutes of marching? It is heartbreaking. I wish people would see more of what is hidden underneath, especially reporters."
But still the sense of pride as a nation remains.
Mr Noh, for one, would go back at a moment's notice if he could.
"100% I would return. It makes me to cry to think about my hometown. Of course I would love to go back. I always want to go back to Pyongyang. Who wouldn't want to go back to their hometown?