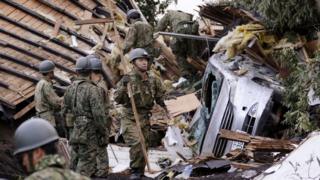 Rescuers continued to search for survivors of a powerful earthquake on Japan's island of Hokkaido, as the death toll rose to 16.
Dozens are still missing with many feared buried under rubble after the magnitude 6.7 quake triggered landslides.
Some 1.6 million residents across Hokkaido remain without power.
The quake is the second disaster to hit Japan this week, after a deadly typhoon lashed the country's west coast.
The earthquake struck early on Thursday and thousands of people spent the night in evacuation centres.
'I thought I would die'
The village of Atsuma was among the hardest hit, where roads and houses collapsed after huge landslides.
"We've heard there are people still stuck under the mud, so we've been working around the clock but it's been difficult to rescue them," a rescue worker in Atsuma told public broadcaster NHK.
One resident said: "It was horrendous. The land slid all the way down and I thought I would die. I thought my house would collapse."
Prime Minister Shinzo Abe confirmed 16 people had been killed, many people injured, and 26 remained missing.
"Please give your sympathy to people who spent a dark night in fear, and do everything you can to restore electricity as soon as possible," he instructed his ministers at an emergency cabinet meeting on Friday.
Authorities said it could take at least one week to restore power lines to the sparsely populated countryside.
With bad weather expected over the next days, officials are warning people to remain cautious and be prepared for aftershocks.
Transport to resume
The island's main airport resumed flights on Friday and train services are also scheduled to restart before the weekend.
The quake also affected several manufacturers on the island. Operations at Toyota plant will be suspended until power is restored, the carmaker said.
A football friendly between Japan and Chile scheduled for Friday has been called off.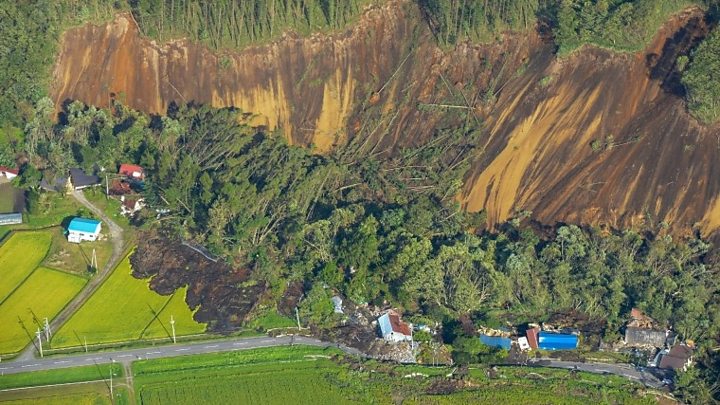 The earthquake comes on the heels of a deadly typhoon lashing the west of Japan over the past few days.
Jebi, the strongest typhoon to hit the country in 25 years, killed at least 10 people and caused widespread damage and disruption.
Japan is one of the world's most seismically active nations and accounts for around 20% of quakes worldwide of magnitude 6.0 or more.
In June, a deadly tremor hit Osaka region, killing five and injuring more than 300 people.