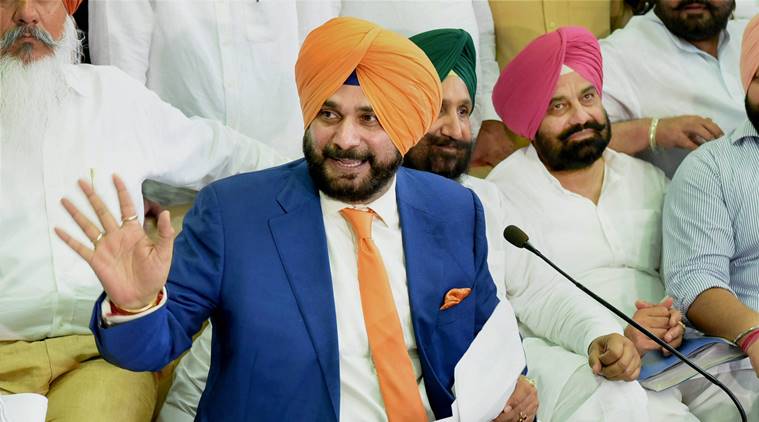 Punjab Cabinet minister Navjot Singh Sidhu. (PTI Photo/Files)
The Advocate General's observation that the procedure adopted for consideration and grant single bid tenders was not valid, legal nor proper, has strengthened the side of Navjot Singh Sidhu as he moves to take action against officials in his department who were involved in this. Earlier in July, Sidhu suspended four superintendent engineers for allotting work under single bid tenders. The department was headed by BJP minister Anil Joshi during SAD-BJP's second term in office.
Sidhu had also said that four IAS officers who approved such tenders as MC Commissioners would also be chargesheeted for "alloting works worth Rs 500 out of Rs 800 crore through single bid tenders". The officials have protested against their suspension and demanded that the orders be revoked. AG Atul Nanda in his legal opinion dated July 18 noted that the law had been clearly been breached in awarding works under single bid tenders.
The suspended engineers had pleaded not guilty at an "open hearing" by Sidhu a few days ago, citing a 2011 circular that allowed considering single bid tenders if the tender approval authority certifies that the bid was competitive and reasonable. Nanda noted that single tender was permissible in law, "but under very rare and exceptional circumstances, after recording a justification on file for this and pursuant to permission from the competent financial authority."
Nanda said the 2011 circular was "not in conformity with law and has no binding effect". He also said that the "the circular cannot override the law laid down by the Supreme Court or the CVC".
Quoting from a Supreme Court judgment, Nanda pointed out that court had held "procurement from a single source to be an exception rather than the rule". He cited that single bid tenders can be awarded in "rare and exceptional cases, for instance during natural calamities and emergencies declared by the government; where the procurement is possible from a single source only; where the supplier or contractor has exclusive rights in respect of the goods or services and no reasonable alternative or substitute exists; where the auction was held on several dates but there were no bidders or the bids offered were too low, etc".
Nanda noted that "award of public contract through open tender to ensure tranparency in public procurement… and to eliminate irregularities, interference and corrupt practices by authorities concerned" also stood incorporated in the CVC guidelines on tendering.
In its report to local government department on June 19 in which it examined sample records of four Municipal Corporations Amritsar, Jalandhar, Ludhiana and Bathinda, Chief Vigilance Officer of the department pointed out that out of 1,002 work orders involving Rs 788 crore, 512 work orders were issued on single bid basis and 109 orders were issued only after receiving two bids.
"Allotment of work order based on single bid (or two bids) post e-tendering can be undertaken only in specific cases based on their merit after recording detailed justification. None of the cases where work orders are allotted based on 1 or 2 bids can be categorised as special cases meriting approval. Hence, all these orders should have been allotted only with minimum of three bids," CVO said in the report.
For all the latest India News, download Indian Express App