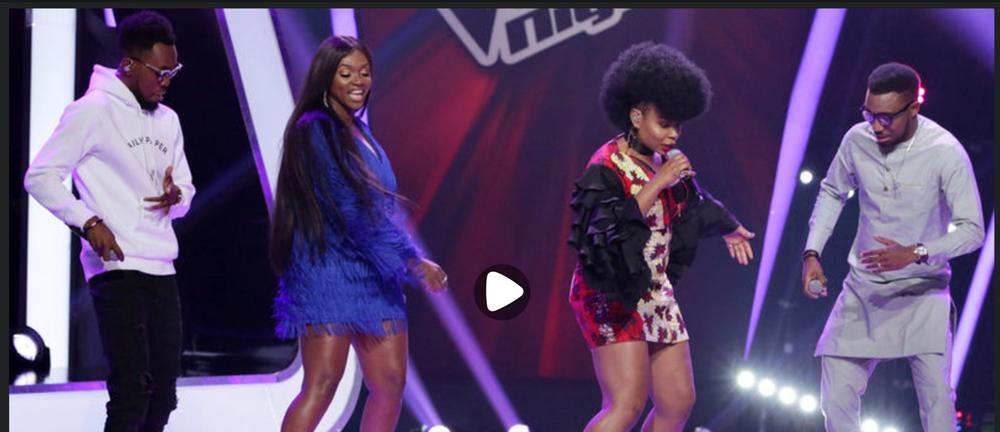 Whoop! The Voice Nigeria is BACK!
We are already glued to the new season of the music talent show as we watched episode 1 tonight. If you follow us on Twitter – @bellanaija, you'll know that the show trended all through and is still trending right now.
Ok, now down to business.
Who was your favourite performer tonight?
We'll say there were a number of good performances but Emmanuel and Olanrewaju won our hearts in this episode. Let's see how it unfolds.
WATCH
***
Emmanuel Precious 'Survivor' / Blind Auditions / The Voice Nigeria Season 2
Emmanuel Precious sings 'Survivor' by Destiny's Child. He says he would love to work with Timi or Waje and though he got all four coaches to turn, he chose to be on Team Timi.
[youtube https://www.youtube.com/watch?v=tVAKv7UCHjA]
Zorah Julius 'Dangerous Woman' / Blind Auditions / The Voice Nigeria Season 2
Zorah Julius sings Dangerous Woman by Ariana Grande, she said though she loved all the coaches, she felt Waje would best bring out her vocal strengths. She got three coaches to turn but still chose
[youtube https://www.youtube.com/watch?v=pROf63tlKu0]
Ifeoma Onu 'When you believe' / Blind Auditions / The Voice Nigeria Season 2
Ifeoma sings 'When you believe' by Whitney Houston and got all the coaches singing along with her but Yemi Alade was the first to turn, followed by Patoranking. Talent chose to be on Team Yemi.
[youtube https://www.youtube.com/watch?v=CU9_ovRYw-U]
Jahtell Ilem 'Freaking Perfect'/ Blind Auditions / The Voice Nigeria Season 2
Jahtell sings 'Freaking Perfect' by Pink and got 2 turns in Timi and Waje. She impressed Timi so much that he walked on to stage to ask for her autograph.
[youtube https://www.youtube.com/watch?v=Sna_0ClLWCE]
Jahnomso Ilem 'Fly like an eagle'/ Blind Auditions / The Voice Nigeria Season 2
Jahnomso Ilem sings 'Fly like an eagle' by Seal, he got Yemi Alade to turn at the last second.
[youtube https://www.youtube.com/watch?v=OR9GdWS4ADU]
Favour Idugbe 'kilon popping' / Blind Auditions / The Voice Nigeria Season 2
Favour Idugbe sings Kilon Popping by Ms Jaie and got all four coaches to turn and she chose Team Patoranking, after which her sister revealed that she's always had a crush on Patoranking.
[youtube https://www.youtube.com/watch?v=Iik5Gl5K4v0]
Afolayan Alabi Adeleke 'I will make love to you' / Blind Auditions / The Voice Nigeria Season 2
Afolayan sings 'I will make love to you' by Boys to Men and got the coaches all talking to themselves as they seemed enthralled by his singing but he got only one chair turn, Team Patoranking.
[youtube https://www.youtube.com/watch?v=DZSGrL7YELE]
Olanrewaju Omowa 'That stupid song' / Blind Auditions / The Voice Nigeria Season 2
Olanrewaju Omowa sings 'That stupid song' by Bez and even got the coaches singing along with her, but Team Yemi wins her over.
[youtube https://www.youtube.com/watch?v=aaAai6_sSps]