Romelu Lukaku and Alvaro Morata joined their new clubs for big money in the summer but were expectations too high? Ahead of Sunday's clash between Manchester United and Chelsea at Old Trafford, we take a look…
"I don't think it is fair to speak about the responsibilities of a player," said Manchester United manager Jose Mourinho during his midweek press conference. "I don't even like the fact that the player that cost X million doesn't have the same responsibility as the player who cost three times X million. I think the responsibility is for everyone."
He was responding to a question about Paul Pogba but the words are equally applicable to his £75m striker Romelu Lukaku. When Manchester United take on Chelsea at Old Trafford this Sunday much of the focus will be on the two teams' target men. The visiting forward also joined his new club in the summer, arriving from Real Madrid in a £60m deal.
That the pair appeared set to make the move to each other's clubs at one stage in that transfer window only adds to the intrigue. After all of the hype, the social media buzz and the drama of the unveilings, which team actually got the better deal? The overriding feeling is that both Lukaku and Morata have underwhelmed at their new clubs.
That seems more than a little unfair.
In the case of Lukaku, it is true that the goals have not been flowing quite so freely after a strong start. He endured a run of one goal in 12 games late last year but even before that Mourinho was heading off criticism of his new signing. The nadir came in the derby in December when he was partially culpable for both Manchester City goals.
But 39 games into his Manchester United career and Lukaku already has 21 goals of his own to his name. He looks handily placed to eclipse the 28-goal tally of his predecessor Zlatan Ibrahimovic from last season. Perhaps more pertinently, United have in their ranks precisely the striker that they were willing to pay so handsomely for back in the summer.
During Lukaku's four seasons at Everton, he scored 68 Premier League goals and provided 23 assists, contributing directly to a goal every 130.5 minutes. Since joining Manchester United, his 12 goals and five assists have come at a rate of one every 132.4 minutes. In other words, Lukaku's return is broadly in line with his previous output at his former club.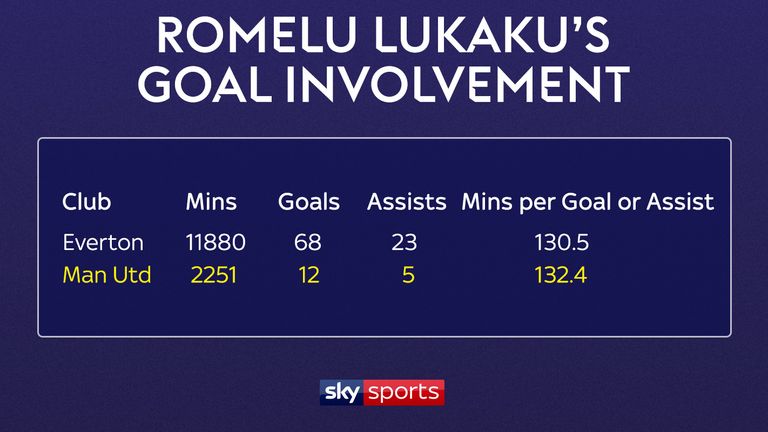 In the case of Morata, the situation is a little more complicated. The Spain international had become accustomed to a back-up role at both Juventus and Real Madrid, but boasted a superb minutes-per-goal ratio. Chelsea supporters were entitled to feel excited about the prospect of Morata seizing the opportunity of more minutes on the pitch.
As it turns out, that has proven a little problematic. Morata has already played more Premier League minutes this season than in any of his previous campaigns in La Liga or Serie A and there have been times when it has appeared to be taking its toll on him physically and mentally. But it is worth noting that his goal record is far from poor.
Not only has he reached double figures in a top-flight season for only the second time in his career but those goals have come at a rate of one every 155.1 minutes. It is customary to argue that the loss of Diego Costa has hit Chelsea hard this season, but he scored his goals at a near identical rate of one every 154.5 minutes in last season's title-winning campaign.
All of which is enough to wonder whether expectations surrounding these two strikers were out of control. Of course, in both cases, there was the hope that they could accelerate their development at their new clubs. In Morata's case because of opportunity. In Lukaku's case because of the superior quality of the players around him at United compared to Everton.
But it seems clear that both remain at a level just beneath the very top drawer. Neither man is Harry Kane, the Tottenham striker having scored 98 Premier League goals in the time that Lukaku, a player two months older than him, has netted 65. But perhaps that is why Kane's valuation is likely to be closer to the £200m mark than the £75m paid for the Belgian.
No doubt Mourinho would not approve of basing expectations on a player's price tag, but in this instance it provides context. Lukaku and Morata have not elevated their clubs to 'the next level', but they were replacing Ibrahimovic and Costa respectively. A goal from either man on Sunday would go some way to changing perceptions about their contributions.
Also See:
Mohamed Salah's time at Basel: The making of Liverpool's newest hero
Chelsea search for a target man explained by Higginbotham