Last Updated: 22/05/17 3:39pm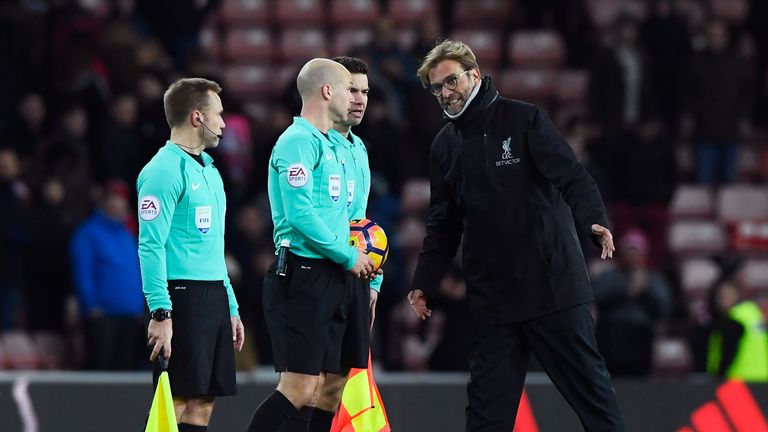 We run through the key decisions impacting Liverpool throughout the season
We round up the controversial calls involving Jurgen Klopp's Liverpool from Ref Watch over the past 12 months.
Former top-flight referee Dermot Gallagher has been running the rule over the key decisions in the Premier League on Sky Sports News HQ every Monday, but how many have gone for and against the Reds?
Here, we take a look at the most contentious and most important calls of the 2016/17 season…
Southampton 0-0 Liverpool, November 19
INCIDENT: Virgil van Dijk pulls Roberto Firmino's shirt as the Liverpool forward approaches the Southampton penalty area, but referee Mark Clattenburg waves away Firmino's appeal.
Should Liverpool have been awarded a penalty for Virgil van Dijk's pull?
DERMOT'S VERDICT: Incorrect decision – This is a tough call for the referee because it's difficult to determine whether it's inside or outside the penalty area. It happens so fast. If it's outside the penalty area, it's a red card and a free kick. If it's inside, it's a penalty and a yellow card. It's tough for Mark because Van Dijk's body actually shields the offence. It was not an easy one and I'm still not sure whether it's inside or outside even now.
Manchester United 1-1 Liverpool, January 15
INCIDENT: Antonio Valencia takes a quick throw and then receives a quick pass back but looks offside. However, the linesman doesn't see it as he's at an impossible angle. The play develops and Zlatan Ibrahimovic scores the equaliser.
DERMOT'S VERDICT: Offside – but I have sympathy for the linesman. Valencia takes a quick throw and the linesman has to step quickly out of the way to avoid getting struck with the ball. Then as the play develops quickly, he's not in a position to see the offside. It's unfortunate as, by the time he's back into position, the ball had been crossed.
Liverpool 1-1 Chelsea, January 31
INCIDENT: Jurgen Klopp escaped punishment for shouting in Neil Swarbrick's face following Mark Clattenburg's decision to award Chelsea a penalty after Joel Matip's second-half challenge on Diego Costa. Klopp afterwards revealed that Swarbrick congratulated him on his 'passion' once he had received an apology from the Reds manager.
Manchester United boss Jose Mourinho took aim at Klopp and accused Premier League referees of favouring the German after he was told to sit down for a similar outburst during Manchester United's goalless draw with Hull the following day.
Jose Mourinho questions whether he's given the same treatment by referees as Jurgen Klopp
DERMOT'S VERDICT: Incorrect decision – The fourth official who spoke to Jose Mourinho acted within the guidelines and the procedures he was given at the start of the season.
The problem emanates from the fact that, when you watch Jurgen Klopp on Tuesday night, for me in view of the procedures, that's totally unacceptable. It was something that had to be dealt with and it wasn't dealt with. I feel that Klopp should have been removed without doubt.
Manchester City 1-1 Liverpool, March 19
INCIDENT: James Milner catches Raheem Sterling from behind as the midfielder looks to convert from close range. Sterling then misses the ball because of the touch from Milner, and Fernandinho misses at the far post too. Nothing given.
DERMOT'S VERDICT: Incorrect decision – penalty should be awarded. The first problem is Michael Oliver is not really in the best position, so he's looking for clues. I think it is a penalty, but it's a penalty he can't give because he's not sure. If they're going to look at the clues, they are there, for instance why would Sterling go down? It was a difficult, difficult decision, and one I don't think he was willing to gamble on.
Liverpool 1-2 Crystal Palace, April 23
INCIDENT: Martin Kelly tackles Philippe Coutinho in the box. The Palace centre-back's challenge catches the Brazilian's ankles, making him stumble, although he opts to stay on his feet and continue his run, before getting a shot off which is blocked
Dermot says Liverpool should have been awarded a penalty for this challenge on Philippe Coutinho
DERMOT'S VERDICT: Incorrect decision, penalty – This dilemma manifested itself a few years ago with Matt Jarvis at Arsenal and West Ham when he stayed on his feet and everyone commended him, but he did not get a penalty. And I wonder whether we have to sit down in the summer and have this mindset of: 'Look, that player has in some ways been punished by being honest and trying to stay on his feet'. Because once the block comes, if that was in the middle of the park, you just go back (and award a free-kick). And we have this reluctance to give a penalty and I wonder if we need to sit down and say: 'Well look, in this situation we are going to take this action…'.
Liverpool 0-0 Southampton, May 7
INCIDENT: Simon Mignolet handles the ball outside the area. The Reds 'keeper charges off his line to clear but, under pressure from Dusan Tadic, makes contact with the ball with his hand, only for referee Bobby Madley and his assistant to judge he was inside his area.
Should Simon Mignolet have been sent off against Saints?
DERMOT'S VERDICT: Incorrect decision – He was deliberately handling the ball outside the area, so he would have got a red card. Let's be fair here, that was difficult to spot there. The assistant is not up with play, but I really feel for him as through no fault of his own, Simon Bennett [the assistant] has had to follow that ball from 10 yards inside his own half. And when Mignolet gets to that ball, he is actually three and a half yards short of Mignolet, who is half a yard outside the penalty area. If he guesses and gets that wrong, Liverpool were down to 10 men then without a specialist goalkeeper because they had already used three subs. And so that is a situation you have to know, you cannot guess.
West Ham 0-4 Liverpool, May 14
INCIDENT: Georginio Wijnaldum is not penalised in the build-up to Philippe Coutinho's goal, which made it 3-0 to Liverpool. The Liverpool midfielder collides with Winston Reid and the ball strikes the Dutchman's arm too. Wijnaldum is not adjudged to have fouled or handballed and Liverpool break, eventually scoring their third goal of four.
Liverpool were awarded a controversial goal in their 4-0 win at West Ham
DERMOT'S VERDICT: Correct decision – I didn't think this was handball. He has jumped and the ball struck his arm, there's no doubt about that. I thought there was more chance of the game being stopped for a head injury to the West Ham player than for handball. Whether the ball has been transferred upfield very quickly and the referee hasn't looked back, I don't know. It happened so quickly.
Liverpool 3-0 Middlesbrough, May 21
INCIDENT: Patrick Bamford gets goal-side of Dejan Lovren and goes down inside the penalty area. With the score at 0-0 and Liverpool looking nervy, the outcome of the game could have changed. Liverpool went on to win and secure a top-four spot at the expense of Arsenal.
Were Boro denied penalty on the final day of the season?
DERMOT'S VERDICT: Incorrect decision – I think it's a really, really tough call for Martin Atkinson, and one that is going to divide opinion. I think for me it's a foul. The forward has been clever, has got in front of the defender, and if the referee gives a foul he gives a red card. I think Joel Matip goes across, and that's where he is unlucky, just as the two players are going into the area, and he can't gamble.