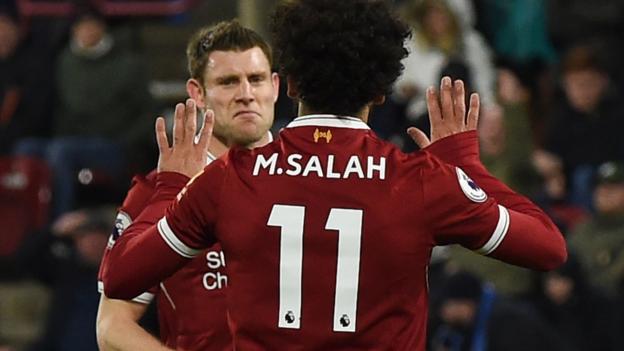 The Champions League final will be contested by the highest-scoring teams in this season's competition, with two of the world's most potent forwards on display.
Real Madrid are chasing a record 13th title – and their third in a row – while Liverpool can move above Bayern Munich and Barcelona into third (behind AC Milan) in the list of most European Cup/Champions League wins if they are victorious in Kiev.
The fixture has all the makings of a classic, but what can we learn from the stats heading into the match?
Is Milner the unlikely key man in Kiev?
With more than 90 goals between them in all competitions this season, it is hardly surprising the Champions League final has been billed as a battle between Real Madrid's Cristiano Ronaldo and Liverpool's Mohamed Salah.
Both are sure to be in the running for the Ballon d'Or at the end of 2018, but it is a man who is unlikely to receive any individual accolades who could hold the key to success in Kiev.
James Milner made headlines in the semi-final against Roma when he took his tally of assists in this season's competition to eight, equalling the tournament record set by Neymar in 2016-17.
Most assists in a Champions League season
Player
Assists
Season
For seasons since 2003-04, when Opta started collecting assists data
James Milner
8
2017-18
Neymar
8
2016-17
Ryan Giggs
7
2006-07
Xavi
7
2008-09
Mesut Ozil
7
2010-11
Zlatan Ibrahimovic
7
2012-13
Roberto Firmino
7
2017-18
That total is three more than Real Madrid's entire midfield of Luka Modric, Toni Kroos, Isco, Marco Asensio and Casemiro have managed between them.
Milner's increased productivity in the final third has been the most notable aspect of his Champions League displays – he has gone from an assist every 588 minutes in the Premier League to one every 99 minutes in Europe.
But there has been more to his superb European form than just creating goals. The former England midfielder, already a strong performer domestically, has raised his game in the Champions League in almost every statistical category.
| | Where Milner ranks among Liverpool players in PL | Where Milner ranks among Liverpool players in CL |
| --- | --- | --- |
| Assists | 8th | 1st |
| Tackles | 3rd | 1st |
| Tackles won | 3rd | 2nd |
| Touches | 6th | 2nd |
| Passes | 5th | 3rd |
| Duels won | 7th | 4th |
| Interceptions | 9th | 5th |
And, despite Real Madrid's proud European record, Milner may never have a better chance to create goals for his team-mates in a final, since the reigning champions are anything but secure defensively…
Who is more vulnerable at the back – Real or Reds?
The opening months of the season were dominated by talk of Liverpool's defensive vulnerabilities, but the arrival of Virgil van Dijk in January and the improvement from goalkeeper Loris Karius have meant it is no longer considered such a glaring weakness.
For Real, however, it is a different story. They sorely missed the presence of captain Sergio Ramos in the second leg of their dramatic quarter-final tie against Juventus, when an injury-time Ronaldo strike meant a 3-1 defeat on the night but a 4-3 aggregate victory.
That porous display was far from a one-off. Real have kept only three clean sheets in 12 Champions League matches and have conceded 15 goals, following on from a total of 17 in 2016-17. No other team since 2004-05 has let in more than 13 in getting to the final, with the average being 8.3.
Liverpool have their own flaws, of course. They have conceded 13 times themselves in the Champions League proper, including six times against Roma in their semi-final tie. But Jurgen Klopp's side have kept six clean sheets in the competition this season, a tally matched only by Barcelona. And they did only concede 38 times in the Premier League, six fewer than Real's tally in La Liga.
One concern for the Reds could be if the match remains in the balance in the closing stages. In the first 75 minutes of their past six matches Liverpool have been 12-3 up overall. But in the final 15 minutes it has been a completely different story, conceding a series of late goals that mean they are 6-1 down in the latter stages.
Of course, there is every chance one of these sides might have run away with it by then…
The most attack-minded Champions League final yet?
Has a major final ever promised so much in an attacking sense?
For years fans have marvelled at the BBC – Gareth Bale, Karim Benzema and Cristiano Ronaldo – all of whom could play on Saturday.
But, despite being one of the great forward lines of the Champions League era, they will not even be the most prolific front three on display in Kiev.
Sadio Mane's strike in the semi-final second leg in Rome made the Senegal forward, Salah and Roberto Firmino the trio to score the most goals in a single Champions League season, surpassing a record set by their Real counterparts four years ago.
Team
Goals
Trio
Liverpool 2017-18
29
Salah (10), Firmino (10), Mane (9)
Real Madrid 2013-14
28
Ronaldo (17), Bale (6), Benzema (5)
Barcelona 2014-15
27
Messi (10), Neymar (10), Suarez (7)
Barcelona 1999-2000
23
Rivaldo (10), Kluivert (7), Enrique (6)
Man Utd 2001-02
23
Van Nistelrooy (10), Solskjaer (8), Beckham (5)
Indeed, Liverpool are the top scorers in this season's competition and their tally of 40 goals is the third highest in Champions League history (behind Barcelona's 45 in 1999-00 and Real's 41 in 2013-14).
While Real have scored 10 fewer times, they all but guarantee goals. In fact, they have scored in their past 27 Champions League matches and their past 29 Uefa fixtures, last failing to find the net in a European match against Manchester City in 2015-16.
Mind you, it helps when you have one of the game's greats in your starting XI…
Ronaldo's records
Barely a game goes by without Ronaldo setting a new landmark. His feats this season have included scoring in 13 consecutive matches (24 goals in total during that run) and becoming the first player to find the net in every group match in a Champions League season.
His tally of 15 in the competition in 2017-18 is five more than closest rivals Firmino and Salah, and he needs two more in the final to match his own record of 17 in a single campaign, set in 2013-14.
But there is another record that is sure to drive on the competition's record scorer, with this final against Liverpool offering him the opportunity to become the first player to win the trophy five times in the Champions League era. He would join an elite four-man list featuring Real Madrid trio Paco Gento, Alfredo di Stefano and Jose María Zarraga plus AC Milan's Paolo Maldini as five-time winners of the European Cup.
There are other records, too, that Ronaldo can set in Kiev. He has already scored more Champions League final goals than anyone else (four) and can become the first player to score in consecutive finals.
You would not bet against him, seeing as he is already the only man to score in three different finals (2008, 2014 and 2017).
If he does inspire Real to victory, he will also help his manager create his own piece of history…
From the brink of the sack to 90 minutes from history
In January Zinedine Zidane's future was the subject of much discussion, with the Frenchman himself describing the state of affairs at the Bernabeu as a "fiasco" following a shock home Copa del Rey defeat by Leganes.
That, coupled with the fact Real were 19 points adrift of leaders and eventual champions Barcelona, led Zidane to say it was "clear" his future at the club depended on their progress in the Champions League.
And, as has become the norm for Zidane's Real, it is that competition in which they have dominated, in results if not always in performances.
The 1998 World Cup winner has led Real to the Champions League final in all of his three seasons in charge and is one game away from becoming the first manager in history to win Europe's premier club competition in three consecutive campaigns.
Were he to lift the trophy in Kiev, he would become only the third coach – after Bob Paisley (Liverpool) and Carlo Ancelotti (Real and twice with AC Milan) – to be a three-time European champion.
That knack for winning major finals is something his counterpart Jurgen Klopp has yet to master. The Liverpool boss has lost five of the six major finals he has been involved in, including his two previous European finals.
The first came with Borussia Dortmund, when they lost the 2013 Champions League final to Bayern Munich at Wembley, while the second came when Liverpool were beaten by Sevilla in the 2016 Europa League final.
Were Liverpool to lose, Klopp would become the fourth manager – after Max Allegri (2015 and 2017), Diego Simeone (2014 and 2016) and Hector Cuper (2000 and 2001) – to experience defeat in two Champions League finals.
His team, though, have no such negative experiences. Not one player to have played for Liverpool this season has appeared in a Champions League final, a stark contrast to Real's squad, eight of whom are in line to win the trophy for a fourth time.