Pep Guardiola has confirmed he will wear a yellow ribbon on the touchline once again when Manchester City face Basel on Wednesday.
Guardiola accepted a Football Association charge on Monday for doing the same thing during his team's recent 1-0 FA Cup defeat to Wigan.
The ribbon, which Guardiola said in November he wore in support of politicians imprisoned his native Catalonia, is banned during matches by the FA due to its status as a political symbol.
It is permitted by UEFA, however, and, wearing the ribbon during his pre-match news conference, Guardiola said: "The FA have rules. They apply them, I accept them. I have to. That doesn't mean I have to agree."
Asked if he would wear the ribbon as City attempt to see out their 4-0 lead against their Swiss opponents this midweek, he added: "Yes."
In accepting the FA's charge this week, City's stance was their manager was simply respecting the rules rather than apologising for actions.
Indeed, he felt his fate was inevitable and, asked if he anticipated leniency from the governing body, said: "To be honest, not really.
"I'm in this country working and I'm in the middle of the rules. That doesn't mean I agree or not, it doesn't mean they are right or wrong.
"I said from the beginning that if the FA considered I shouldn't wear the ribbon I would accept it but the fact I wear it or not doesn't mean anything.
"The yellow ribbon is always going to be there, even if you see it or not, and I wear it in press conferences and post-match.
"It doesn't matter and the situation doesn't change. There are still people in prison and in jail in an unfair way. "
FA chief executive Martin Glenn spoke about Guardiola's display of the ribbon at the weekend and in doing so referred to the Star of David, the swastika and Robert Mugabe in the same sentence.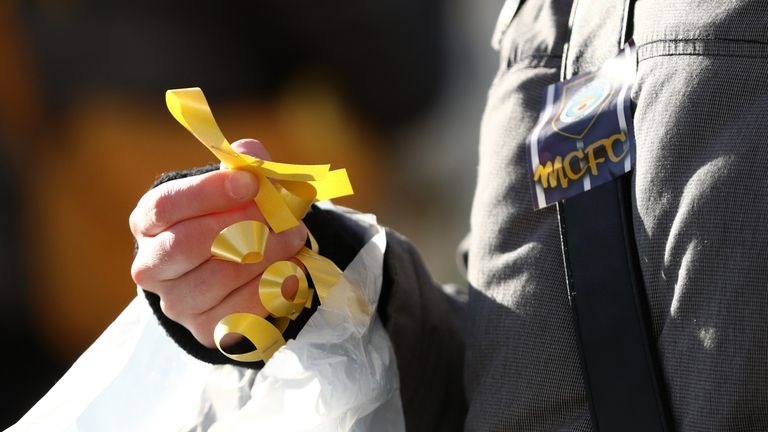 His comment have since been described as "offensive" and "inappropriate" by the Jewish community, with Guardiola of the belief he missed the point of the symbol.
"Mr Glenn has apologised so okay," Guardiola added. "The first impression, when I heard that, is because he didn't understand what the yellow ribbon means.
"It's as simple as that. He made a comment which was far away from what that means. Maybe now he will realise what it means.
"It's not about independence or no independence. It's about the four people and more people who are in jail when they didn't do anything to be in jail.
"I think now he will understand. The comments (suggested) he didn't understand the reality of what happens right now in that situation but I am pretty sure he will now know.
"Many times I have spoken for myself and after I said: 'Why have I said that?' I've had regrets at what I've said, it sometimes happens. I am sure now that is not going to happen."
Also See: