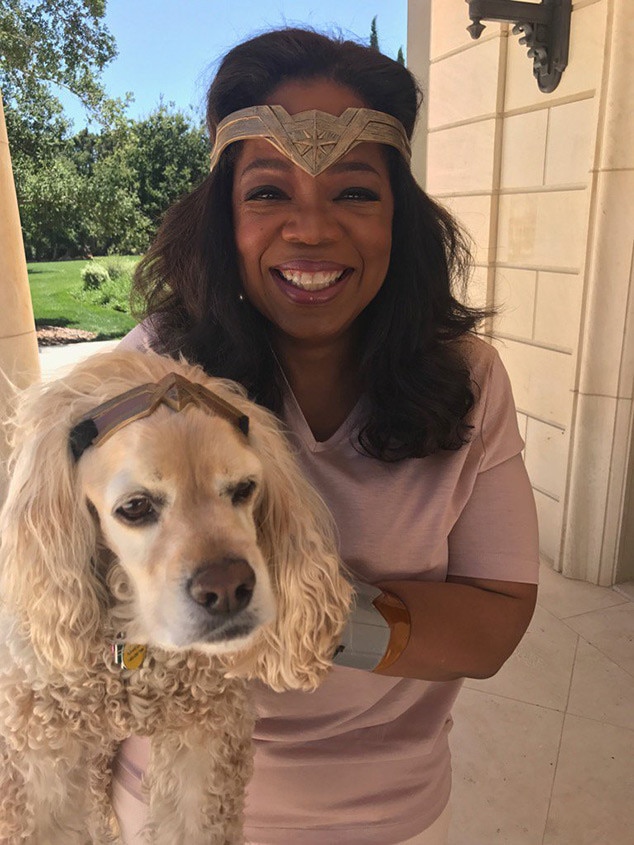 Twitter
It's official: Oprah Winfrey throws the best theme parties.
In a series of Instagram videos Tuesday, she gave her 9.6 million followers an inside look at a very special soirée. "So excited 'cause what it's Wonder Woman day in my house," she said. "I'm having a party for 28 10-year-olds and Tiana just brought the cake from Charm City Cakes."
Winfrey then offered to fasten the top—made in the superheroine's image—to the cake's base. "I'm going to help you put it on, OK?" she told the employee. "This is a crowning moment!" In her signature singsong voice, she added, "Wonder Womaaaaaan! Happy Wonder Woman day!"
A specialty cake wasn't enough for Winfrey, as she proudly showed off her Wonder Woman-themed popcorn buckets. "And guess what?" she asked. "Wonder Woman cups all just arrived."
Winfrey, who was decked out in the character's metal bracelets and tiara, then showed another gift for the girls. As she opened the package, she said, "This just arrived, too. I'm dying. Thank you so much. Havianas' Wonder Woman flip-flops! Woo!" She later tweeted a photo of her dog Sadie, joking that her furry friend was "not so sure about her wonderwomanness." No matter—the 63-year-old was clearly feeling like a kid again. "Just a few more minutes and our guests are arriving," she raved on Instagram. "We're ready for the party! Hello! It's Wonder Woman Day!"
Before her guests arrived, Winfrey wanted to check on the food. One of the chefs was busy making butter lettuce salad with bleu cheese. "I think that's for the parents, right?" Winfrey asked. "Not for the kids." Two other chefs were grilling hamburgers and hotdogs—much more kid-friendly fare. "Whoa!" Winfrey marveled. "Beautiful hamburgers and hotdogs coming up!"
Winfrey's party even caught the attention of Wonder Woman herself, Gal Gadot. The 32-year-old actress re-grammed one of Winfrey's videos Tuesday afternoon, writing, "This is awesome!"
Since its June 2 debut, Warner Bros.' Wonder Woman has earned $444.8 million worldwide. Five days ago, director Patty Jenkins admitted to E! News that she had "no" idea just how popular it would be. "For years when people were saying, 'Who would go see a Wonder Woman film?' I always thought, 'Wonder Woman is an amazing thing. I think a lot of people would.' But the way that the world has embraced it—seeing it multiple times and making it No. 1 at the box office and sending the message that they have—I'm like touched and blown away."
Will Jenkins return to direct a Wonder Woman sequel? "We're hoping so," she said.