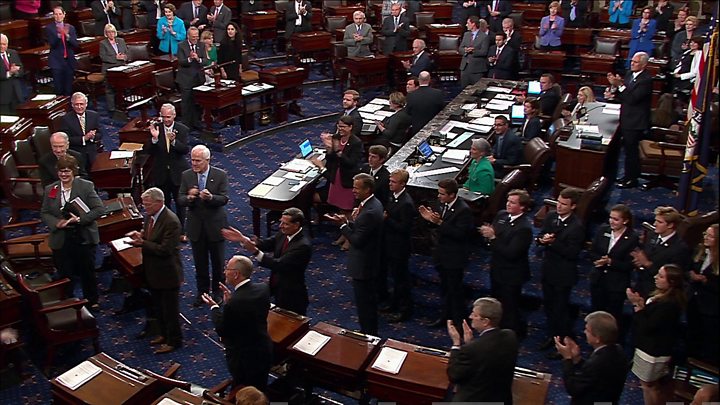 The US Senate has voted to start debating a new Republican healthcare bill in a major step forward for President Donald Trump's attempts to repeal his predecessor's signature law.
In a tight vote, several Republicans previously opposed to aspects of the plan changed their minds last minute.
Prior attempts to replace Obamacare have collapsed in recent weeks due to divisions in the Republican party.
President Trump had made scrapping the policy a key campaign pledge.
Prior to the vote, he had warned his party's senators of the repercussions of not pushing through the measures to repeal and replace Obamacare, known formally as the Affordable Care Act.
The Republican party, which needed a majority for the motion to go ahead, secured 51 votes after Vice-President Mike Pence cast a tie-breaker in support of the legislation.
Senator John McCain, who was recently diagnosed with an aggressive brain tumour, received a standing ovation as he returned to Congress to cast his "Yes" vote.
President Trump tweeted his thanks to the Arizona senator for playing "such a vital role" in the vote.
"Congrats to all Rep. We can now deliver grt [great] healthcare to all Americans," he said.