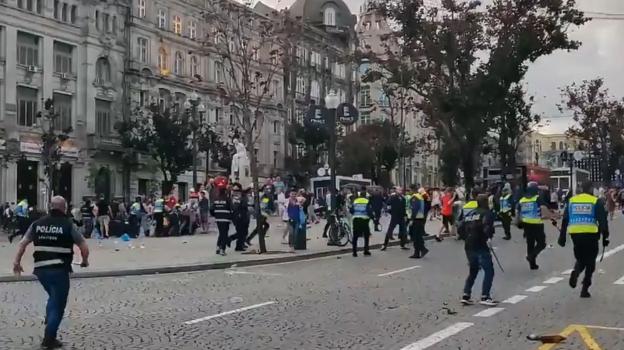 Fans responsible for trouble in Porto before Thursday's Nations League semi-final are "not true England supporters" and an "embarrassment to the team", the Football Association has said.
Two England fans were arrested in clashes with riot police on Wednesday night and two officers were injured.
Bottles were thrown at Portuguese fans in a fans' zone as supporters watched Portugal beat Switzerland 3-1.
It was the second night in a row that supporters had caused trouble.
A UK police chief has called their behaviour "completely unacceptable".
There are believed to be 15,000 England supporters in Portugal and around 500 attended Wednesday's game at Porto's Estadio do Dragao.
Some fans are staying in Porto, which is 30 miles away from Guimaraes where England face the Netherlands.
Portuguese police confirmed to BBC Sport: "Two English fans were arrested in Porto due to aggressions to police officers and another was identified because of his behaviour. Two police officers were injured in the intervention."
The trouble comes a week after the FA released their 'Don't be that idiot' campaign, warning fans about anti-social and "embarrassing behaviour".
"The FA strongly condemns the scenes witnessed in Porto overnight," it said in a statement.
"Anyone responsible for these disturbances cannot be seen as true England supporters and are not welcome in football. They are an embarrassment to the team and the thousands of well-behaved fans who follow England in the right way."
'Minority of idiots' – reaction
The Football Supporters' Association, a national fans organisation, said it "unreservedly condemned the anti-social behaviour and violent disorder".
Chief executive Kevin Miles said: "This is exactly the type of incident that Football Banning Orders (FBO) were made for and we're sure the authorities will be seeking to identify perpetrators.
"While the UK police don't have powers of arrest in Portugal they can retrospectively apply for FBOs which stop these people getting into UK stadiums or following England away.
"The most galling aspect of these incidents – which most England fans didn't witness, let alone condone – is that the rest of us will all suffer as a consequence of the reputation perpetuated by this minority of idiots."
Deputy chief constable Mark Roberts, the National Police Chiefs' Council football policing lead, said Portuguese riot police were deployed in the main square of Porto against a group of England fans on Wednesday night.
"The behaviour of a small number of the England fans out here continues to tarnish the reputation of the genuine fans who are simply trying to enjoy the football," said Roberts.
"It is believed the fans had been throwing bottles at Portugal fans who were watching the match in the same area.
"This is the second evening in a row where disorder has occurred in Porto. Last night there were issues outside a bar, where bottles were thrown and minor damage was caused.
"The behaviour we are witnessing is incredibly disappointing and again I would point fans towards the recent video from the FA – 'Don't be that idiot'.
More than 100 England fans were arrested in Amsterdam in March 2018, when Gareth Southgate's side played the Netherlands in a friendly.
England were also threatened with disqualification from Euro 2016 but were not formally charged by Uefa, after fan trouble at the tournament,.
But last year's World Cup in Russia passed without any trouble.
Analysis – by Mark Lowen, BBC News, Porto
Trouble in Portugal was feared; when England played the Netherlands in Amsterdam last year, more than a hundred England fans were arrested. There were ugly scenes too in Seville last October so Portuguese police were braced for violence.
In the end, last night passed off relatively calmly. But when Portugal went 1-0 up against Switzerland, a hardcore group of England fans threw beer bottles in the fan zone. The police moved in with batons, cheered by some Porto residents.
This morning, Avenida da Liberdade, where the trouble flared, had been cleaned up, but some local businesses lamented the ugly scenes.
Manuel Alvos, serving in a café where England fans were drinking beer from late morning, told me the behaviour was shameful. "They're fine until they start with alcohol", he said. "Portugal is a calm country. It's bad for tourism when this happens – and bad for football."
As rain began to beat down, the bars along Porto's Douro river largely emptied of England fans – many of them taking the short train ride to where tonight's match will take place: Guimaraes, the picturesque town that was once the capital of Portugal after its independence in the 12th Century.
The FA has called last night's scenes "an embarrassment" and many of the 18,000 England fans here will share that sentiment. Once again, the behaviour of a few has tarnished the image of English football.