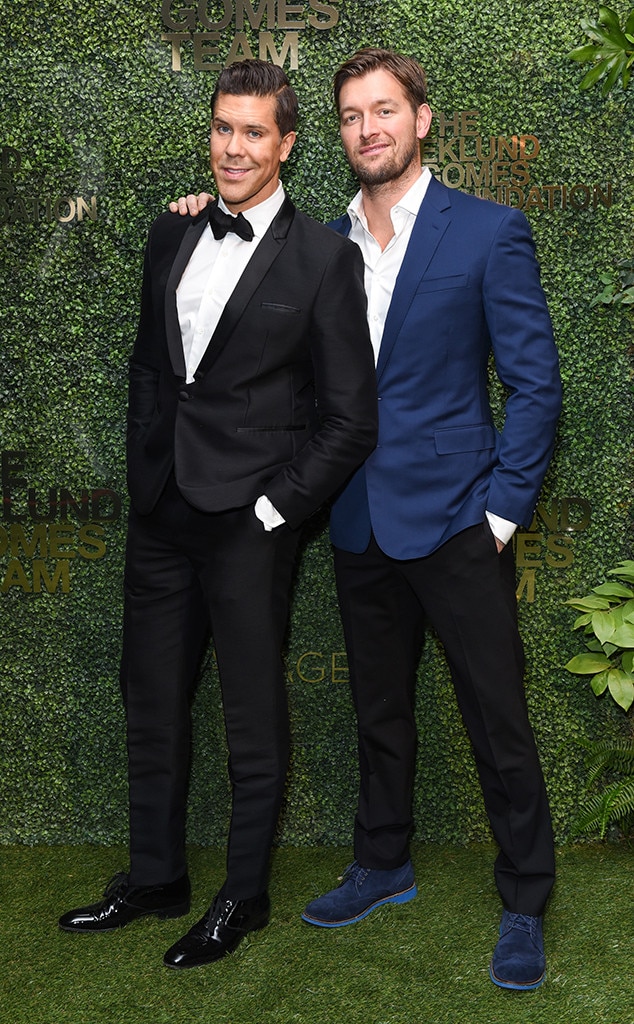 Presley Ann Slack/Patrick McMullan via Getty Images
Here's some million dollar baby news!
Million Dollar Listing star Fredrik Eklund and his husband, artist Derek Kaplan, are expecting twins (a boy and a girl) via surrogacy. The real estate mogul shared the wonderful news on Instagram Thursday evening with a heartfelt post. 
"We've been blessed two times over – we're six months pregnant with twins, a boy and a girl!" he captioned a celebratory photo of the couple kissing in front of the Eiffel Tower. "It was important for us to take the time to keep the news for ourselves, but now we are ready to celebrate all the love."
He continued, "We thank you for supporting us in this journey and your well wishes…. We are finally going to be dads! Finally! #grateful"
Fredrik and Derek, who wed in 2013, have long documented their desire to become parents on the hit Bravo series. Unfortunately, in 2015, they suffered major heartbreak when a previous surrogate miscarried. 
"I'm sad to share we've had a failed pregnancy. I have cried so much that I can't cry anymore. We were pregnant with twins but we're not anymore," Eklund wrote on social media months after initially discussing the pregnancy publicly and on the show.
Today's Instagram announcement comes on the heels of Million Dollar Listing's season finale, where viewers at home got to witness the exact moment the soon-to-be dads learned the news in April while celebrating Eklund's 40th birthday in Paris.
The famous broker also spoke to The Daily Dish about why they've kept this aspect of their personal lives a little less public than usual. "I think that I shared so much for so long, maybe too much, which is important," Fredrik explained. "But I feel like what's happening right now, I won't talk about for a little longer. But it's a good thing, I think. It feels really good, you know? It's so beautiful, and it's very private. I'll share it when the time is ready." 
Eklund continued, "We had multiple miscarriages, and the first one, I share that on the show. And then as that was airing, we had our second one… At the time, it was like, why am I doing this to me and Derek? But it's gonna all make sense soon."
And makes sense it does! Congratulations, you two!
(E! and Bravo are both part of the NBCUniversal family.)