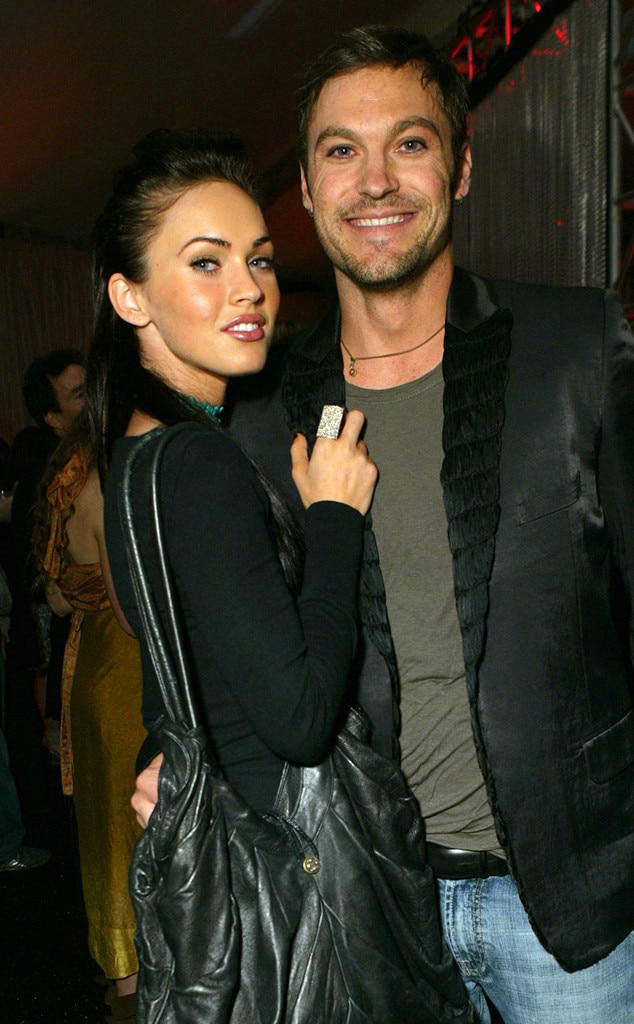 Todd Williamson/WireImage.com
Megan Fox and Brian Austin Green's children are bound to inherit the 'rents Hollywood good looks. 
The Transformers star took to Instagram on Monday with a special shout-out to the father of her three sons, Noah Shannon Green, 4, Bodhi Ransom Green, 3, and Journey River Green, 1. Megan shared an epic throwback from Brian's Beverly Hills, 90210 days (triple hoop earrings, tweezed eyebrows and coifed locks in all their '90s glory), dubbing the actor her "Man Crush Monday."
She captioned the snapshot, "Thank you for donating your DNA to the shared dream of birthing our own colony of teen heart throbs. #mcm #colonymission"
Together since 2004 and married since 2010, Megan and Brian have had their divorce on hold since she originally filed exactly two years ago today in 2015. 
When Megan became pregnant with baby No. 3, a source revealed to E! News exclusively that the couple's plans to officially split were put on hold. 
"Brian and Megan been working on themselves as individuals and things have gotten better between them as a couple," the insider shared. "They have been getting along great. They are best friends and know each other very well."
The source also added, "They admire each other on how they are as parents and are looking forward to bringing their third child into this world. Megan's favorite thing is being a mom and spending time with her family. 
Since embarking on their parenthood journey, the couple has mostly shied away from sharing too many details surrounding their life at home. Earlier this month, Megan shared a rare set of Polaroid photos featuring Green and their young boys. 
And after all, Megan thrives in a household where she's the only lady. She told The Daily Mail in 2014, "I like being around boys and being the center of attention in my family because I'm the matriarch, the queen bee. My husband is the sensitive type, he's not macho. And I'm going to raise our boys like that: sensitive, sweet, chivalrous types."