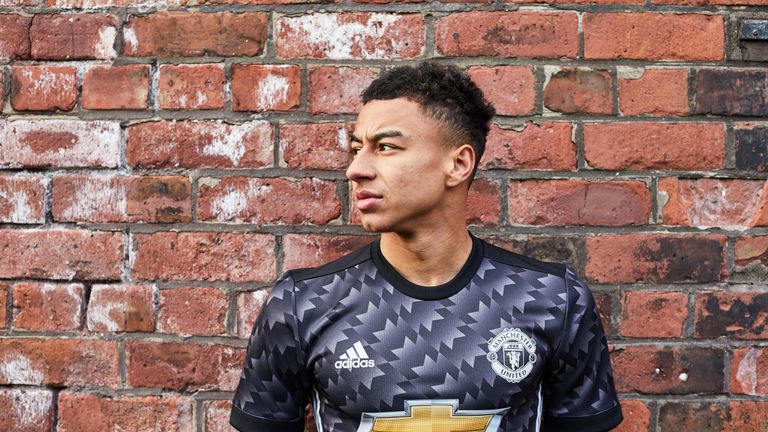 Jesse Lingard wearing the new Manchester United away kit by adidas
Jesse Lingard has become Manchester United's Wembley specialist and a key figure in the dressing room and on the pitch. Adam Bate met up with him to find out why he is more confident than ever, what Jose Mourinho taught him and why it's such a tight-knit team…
"It was a great night for us all, especially for our families and the fans that had travelled down. It's always good to give back to them. Manchester United is all about winning trophies. It's engraved in their history to win trophies and it's good that the new generation now is starting to learn to win trophies." – Jesse Lingard on winning the Europa League
There was a time when Lingard might have been overawed by such occasions as Stockholm. There were the nerves, for example, that hit him as early as the pre-match meal before an FA Youth Cup semi-final at Chelsea in 2011. He ended up being sick on the pitch that day.
The feeling was not a one-off.
Lingard insists he's targeting more silverware after United's trophy-laden season
Speaking at the launch of the new Nemeziz boot by adidas, Lingard tells Sky Sports: "I think when I was younger and I was on loan I used to get nervous before games but as you get older you adapt to it and it becomes second nature to walk out onto the pitch and perform."
The nerves are under control now. Goals in the FA Cup final, Community Shield and EFL Cup will do that. United won all three and the 24-year-old Lingard has earned his reputation as a man to be relied upon at Old Trafford – on and off the pitch. Indeed, it is his character as well as his ability that makes him such an important figure under Jose Mourinho.
"I'm 25 this year and there are obviously a lot of good youngsters coming through and it's good that I can be there to advise them," explains the man who joined United at the age of seven. "It's a great atmosphere. It is like playing with your friends in the park but obviously with an objective to win the game so you can get the best of both worlds with that."
The feeling of togetherness at United is no fluke. That was forged at the club's Carrington training base where youth-teamers of all ages would spend their Mondays in an enclosed football pitch known as the cage. Boys aged from 12 and 18 would compete alongside each other, battling for the right to showcase their skills.
On United's success
"I think winning trophies is the main thing. That's why I play for Manchester United and there's no better feeling than lifting the trophy in front of your fans and celebrating. So once you've got that feeling you've got to have the hunger to go after it again."
So could the diminutive Lingard hold his own? "Yeah, of course. You have to," he insists.
"They were good times. It was also good to toughen you up because it was a tight pitch with a lot of bodies. You could get knocked around a lot but that was good in a way because you could learn from that and take it onto the biggest stage."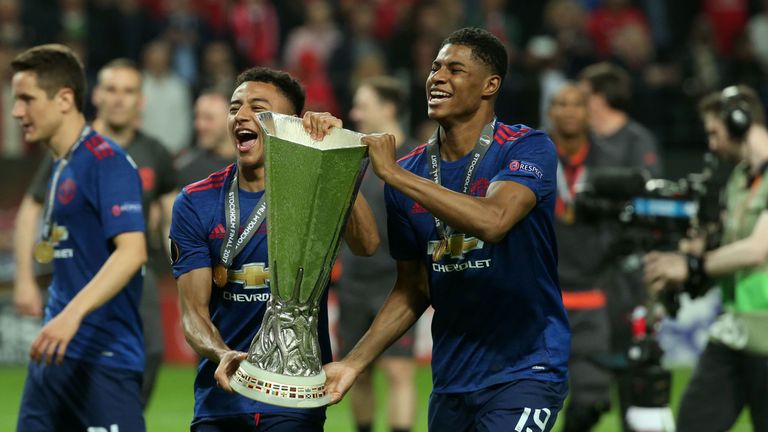 Lingard and Marcus Rashford celebrate Manchester United's Europa League win
Some of United's key players are doing just that. Take Marcus Rashford. The understanding Lingard forged with him way back then is reaping tangible benefits now. "It helps because you are used to each other," he explains. "With Marcus, I know he can run in behind so my first thought is to put the ball in behind. You work to each other's strengths."
Then, of course, there's the returning Paul Pogba. "He has settled back in," adds Lingard. "He is a fun, vibrant lad and he gives a lot of good energy off, especially in the changing room. He can make the atmosphere very good before games and really get you on it."
On the United family
Everyone realises United is a family and we stick together and look after each other, which is good. When I was growing up, others looked after me and helped me when I needed it."
It has worked for Lingard who followed up his breakthrough season with a further 41 appearances under Jose Mourinho. Fifteen of those came in the final 54 days of the season. "Coming towards the end of the season I played a lot of games, which was good," he says.
"It's good that the manager trusts me. He was playing me in different positions. At a big club sometimes you are going to be in and sometimes you are going to be out, but it's how you deal with that. Once you play you've got to show the manager what you can do."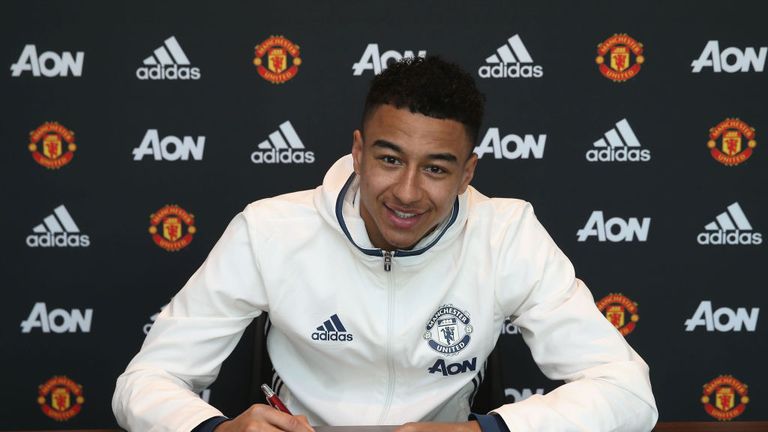 Lingard recently signed a new contract at Manchester United
Lingard's skill-set is growing. So what has he improved under Mourinho?
"My overall awareness on the pitch," he explains. "Knowing where you are on the pitch. Doing things in the right areas, that's very key. Each day you are learning and you can see from the manager about game-management and what he wants you to do on the pitch. Especially when winning games. So you are learning and learning well."
It's a learning curve that has seen Jesse Lingard go from nervous youngster to senior England international. "It was always good vibes when you're younger," he adds. "When you get older you realise it's all about winning games and winning trophies."
For Lingard, there are likely to be many more of them to come.
Introducing Nemeziz. Unlock Agility. Available at adidas.co.uk