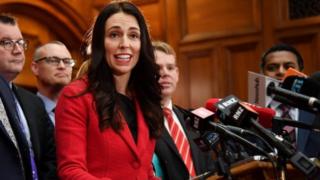 New Zealand's new opposition leader has said it is unacceptable for women in the workplace to be asked about their motherhood plans, after she was quizzed on TV about whether she wanted a child.
Jacinda Ardern, 37, was elected leader of the Labour party on Tuesday after Andrew Little stepped down.
Ms Ardern is the youngest person to lead the party and the second woman.
The questions have sparked a fierce sexism debate in the country, which is due to hold an election in September.
Prime Minister Bill English said the questioning was not acceptable and that while "some degree of personal intrusion" could be expected in politics, Ms Ardern's plans were "her private business".
'I've been very open'
Late on Tuesday, hours into her new job, Ms Ardern appeared on current affairs programme The Project.
She was asked by the host Jesse Mulligan whether she felt she had to choose between progressing her career and having children.
"I've got a question and we've been discussing today whether or not I'm allowed to ask it," said Mr Mulligan before proceeding.
---
Read more
Fighting sexism in Australian politics
What Julia Gillard did to beat sexism
---
Ms Ardern has previously spoken about how wanting a family has made her think carefully about pursuing high level positions.
She replied: "I have no problem with you asking me that question because I have been very open about discussing that dilemma because I think probably lots of women face it."
"For me, my position is no different to the woman who works three jobs, or who might be in a position where they are juggling lots of responsibilities."
'Totally unacceptable'
However, in a second interview on Wednesday morning, Ms Ardern was again pushed on the subject.
A host on The AM Show, Mark Richardson, said New Zealanders had the right to know when choosing a prime minister whether that person might take maternity leave.
"If you are the employer of a company you need to know that type of thing from the woman you are employing… the question is, is it OK for a PM to take maternity leave while in office?" Richardson asked.
Ms Ardern, visibly angry with the question, said New Zealand women had a right to keep their child-bearing plans private from their employers.
She pointed out that it was illegal for employers to discriminate against a potential candidate on the grounds of being pregnant or wanting children in the future.
"It is totally unacceptable in 2017 to say that women should have to answer that question in the workplace. It is unacceptable, it is unacceptable," she said pointing her finger at Richardson.
"It is a woman's decision about when they choose to have children and it should not predetermine whether or not they are given a job or have job opportunities."
The repeated questioning of Ms Ardern on the subject has sparked outrage among many who point out that male politicians are rarely asked their parenthood plans.
An opinion piece by Michelle Duff for website Stuff.co.nz spoke of the double standard in place. Former Australian PM Julia Gillard's choice not to have children was often used by her political opponents to paint her as unemotional and lacking in empathy, she said.
The piece concludes the questions are "sexist, stupid, and irrelevant to how well she can do the job".