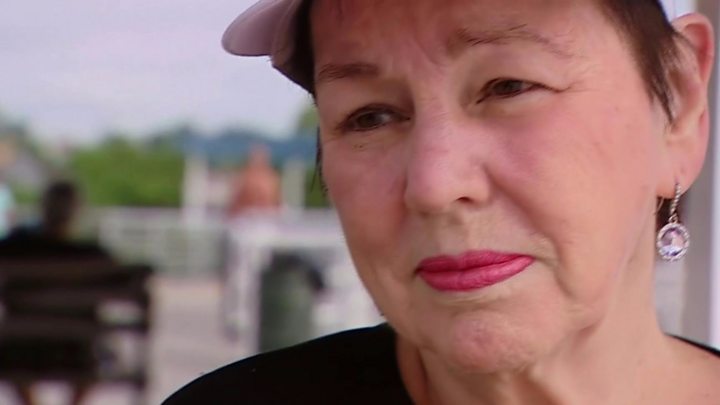 News that two former Trump advisers are facing prison time may have provoked a media firestorm in the nation's capital. But to the president's core supporters it's just a distraction from the good work he's doing.
"This is the sort of stuff that should be in People magazine," says James Montfort III, when I call him to ask what he makes of the legal turmoil surrounding Paul Manafort and Michael Cohen.
"It's more important to get North Korea to give up their nuclear arms, it's more important to make sure Mexico is playing fair on trade – than it is to worry about whether Donald Trump had consensual sex with someone years ago."
Whether or not President Trump directed Mr Cohen, his former personal lawyer, to pay porn star Stormy Daniels "hush money" is irrelevant to James from Virginia.
He is far more interested in talking up what he says are the president's huge achievements in office.
"This is not going to change my loyalty or dedication to him," he says, arguing that the national conversation should instead focus on issues such as low unemployment and a healthy economy.
I wasn't surprised by James' unerring loyalty. Ever since I met him in August 2016, just weeks after Mr Trump was officially nominated as the Republican candidate, his support has been unwavering.
James isn't an outlier. As I call a number of other Trump voters across different states, a pattern emerges in how they see the entire story. To them it's nothing more than a conspiracy against the man they elected.
"Everyone wants to talk about sex," says Cathy De Grazia, who I met as she campaigned for Mr Trump in the state of New Hampshire in 2016.
"I don't care if he paid off a porn star or a playboy bunny, that doesn't impact his policy making."
Cathy says she doesn't watch TV much these days, and listens instead to talk radio hosts such as Sean Hannity, Rush Limbaugh and Bill O'Reilly.
"Michael Cohen once publicly said he would always be loyal to 'Mr Trump'," writes O'Reilly in his latest blog to his audience.
"But now Cohen opines that his friend of many years is a danger to the country.
"Maybe Cohen is auditioning for the role of Brutus in the prison play."
The narrative in some conservative media circles has been to portray Mr Cohen as a fall guy, a sentiment Trump supporters sympathise with.
"He has been coerced and threatened," says Cathy, who believes both the Manafort and Cohen cases are the product of what she calls the "depth of corruption" in the FBI.
"I think there's been a tremendous misuse of power and authority," she adds.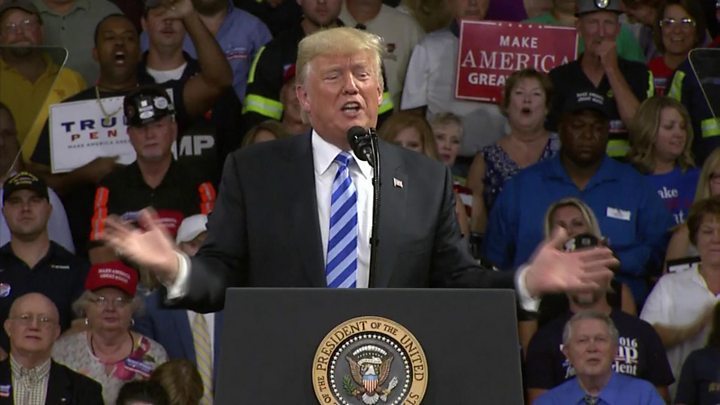 Ever since Mr Trump took office he has railed against the FBI and intelligence services, and it seems that strength of feeling has filtered down to his base.
A phone call to June Savage, a real estate agent and Trump loyalist in Miami, Florida, confirms this sentiment.
"They went on a fishing expedition and they caught two big fish," argues June, who unsuccessfully ran to become mayor of Miami Beach last year.
"This is all smoke and mirrors to create a negative atmosphere. The FBI can make up stories once they find a target," she argues. "This target was the president."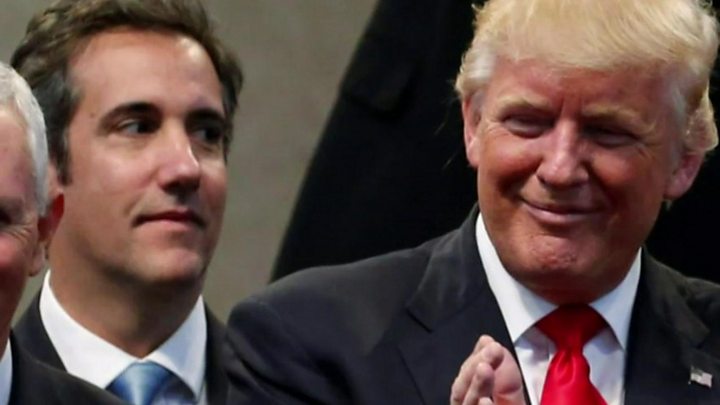 In a throwback to conversations during the 2016 campaign, June believes the real target should be Hillary Clinton.
"They [the Clintons] are one hair away from being investigated about everything that's been going on in this country," she says.
"They wanted her to have a clean slate. They have double standards."
The FBI ultimately cleared Mrs Clinton of criminal wrongdoing over her use of a private email server while she was US secretary of state.
But that hasn't stopped Trump supporters citing the former Democratic presidential candidate's name as evidence of bias against their man.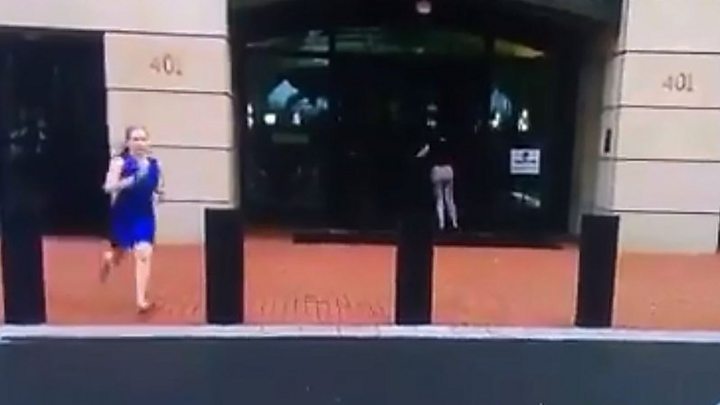 Several also mentioned the tax affairs of Reverend Al Sharpton, a civil rights activist and host on left-leaning MSNBC, arguing that if Manafort's past was examined, so should Sharpton's.
And to the Trump base, there's still no proof the president is guilty of a criminal act, or indeed collusion.
"I haven't seen anything that implicates Donald Trump in anything," Frank Ruppert, a retiree who lives on the Maryland-West Virginia border, tells me.
I phoned Frank – whom I first met after Mr Trump took office – while he was catching up on the day's headlines on Fox News.
"On some of the other networks they're talking about how Trump could be impeached for crimes he hasn't even committed, they've been saying that for two years," he adds.
Some have accused Fox News of not focusing enough on the plight of Manafort and Cohen, going big instead on the arrest of a Mexican immigrant who is accused of killing a young woman from Iowa, Mollie Tibbetts.
But for much of the Trump base, the agenda of some conservative news outlets merely reflects their own political outlook.
"I'd vote for Trump again, just like everyone would've voted for Bill Clinton again," says Frank.
"He's [Mr Trump] created jobs and economic growth, I can't see anything bad in what he's doing."
And as long as his supporters and media allies feel the same, perhaps the president has nothing to worry about.