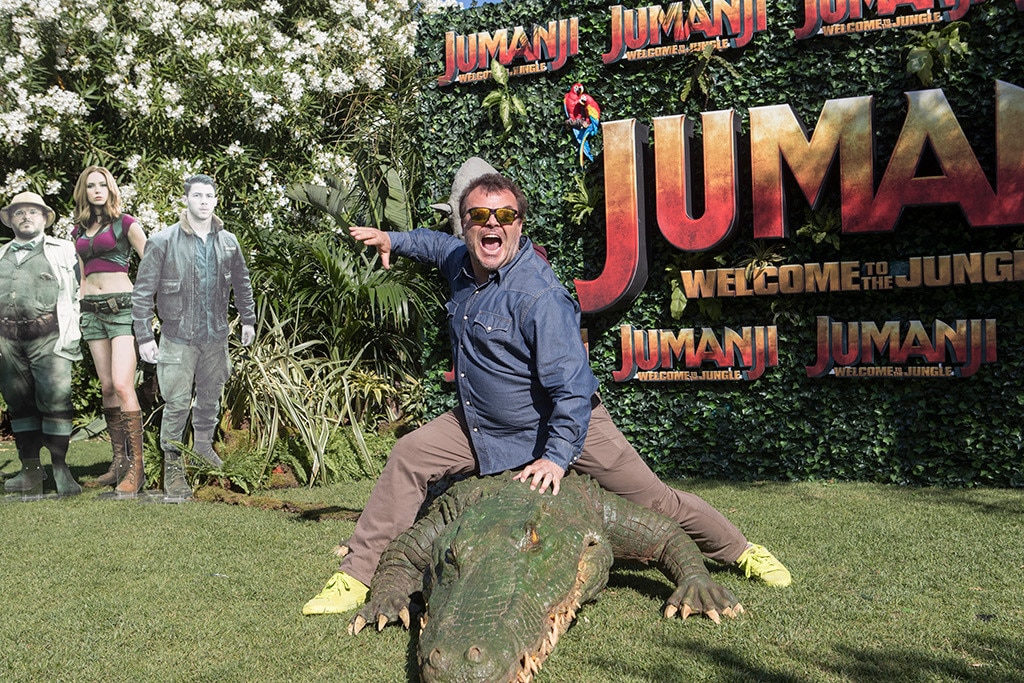 Robert Marquardt/CTMG, Inc.
There's no Jumanji without Robin Williams.
Though the actor died at age 63 in August 2014, his character's legacy will live on in Sony Pictures' Jumanji: Welcome to the Jungle, premiering in theaters nationwide this Christmas.
Speaking to The Hollywood Reporter during a photo call at CineEurope in Barcelona, Jack Black explained how the sequel pays tribute to Williams. "We're exploring this jungle and trying to conquer the game; it's life or death," he said. "But while we're there, we find clues left behind by [Williams' character Alan Parrish]. He built up a full-blown jungle house, similar to a Swiss Family Robinson situation," he said. "It's like he's there helping us without actually being there."
The original film, released in 1995, grossed $262.8 million worldwide and starred Kirsten Dunst, David Alan Grier, Bonnie Hunt, Jonathan Hyde, Bebe Neuwirth and Bradley Pierce. The follow-up's cast includes Bobby Cannavale, Karen Gillan, Kevin Hart, Dwayne Johnson and Nick Jonas.
Directed by Jake Kasdan and based on the book by Chris Van Allsburg, Jumanji: Welcome to the Jungle begins when four high school students discover an old video game they've never heard of: Jumanji. "They are immediately drawn into the game's jungle setting, literally becoming the avatars they chose: gamer Spencer becomes a brawny adventurer (Johnson); football jock Fridge loses (in his words) 'the top two feet of his body' and becomes an Einstein (Hart); popular girl Bethany becomes a middle-aged male professor (Black); and wallflower Martha becomes a badass warrior (Gillan)," the studio said. "What they discover is that you don't just play Jumanji—you must survive it. To beat the game and return to the real world, they'll have to go on the most dangerous adventure of their lives, discover what Alan Parrish left 20 years ago, and change the way they think about themselves—or they'll be stuck in the game forever."
Unlike the first film, where "you never got to see the inside world," the sequel takes place inside the jungle of Jumanji. "That's the coolest part of the film," Black said. "We're able to transport the audience to that secret and wondrous land, with the danger and the beauty."
Jumanji: Welcome to the Jungle is in theaters Dec. 20.