By:
PTI
| Darjeeling |
Published:August 3, 2017 1:12 pm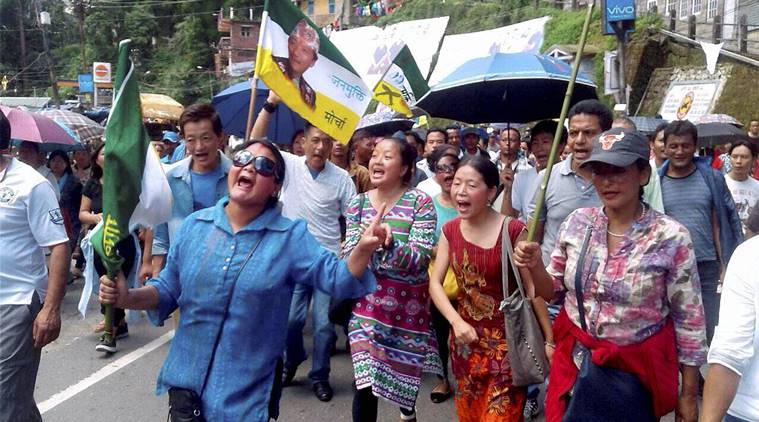 GJM supporters holding a rally for separate Gorkhaland in Darjeeling. (PTI Photo, File)
The Gorkha Janamukti Morcha took out rallies in various parts of the Darjeeling hills today demanding restoration of Internet services and immediate withdrawal of police force. No incident of violence has been reported since last night but the police and security personnel are keeping a vigil as the indefinite strike called by the GJM, in support of its demand for a separate Gorkhaland, entered its 50th day on Thursday. 12 activists of GJM's youth wing, the Yuva Morcha, are observing a fast-unto-death over the demand for Gorkhaland, since July 21.
"We want our separate state of Gorkhaland. And in our new state, there is no place for police personnel from Bengal. This indefinite shutdown will continue and we are ready to sacrifice our lives for Gorkhaland," GJM youth wing president Prakash Gurung said.
Apart from the GJM, several other hill parties and intellectuals have plans to march on the streets of Darjeeling with black flags and placards. Barring pharmacies, all shops, schools and colleges remained closed. Internet services are suspended since June 18.
For all the latest India News, download Indian Express App