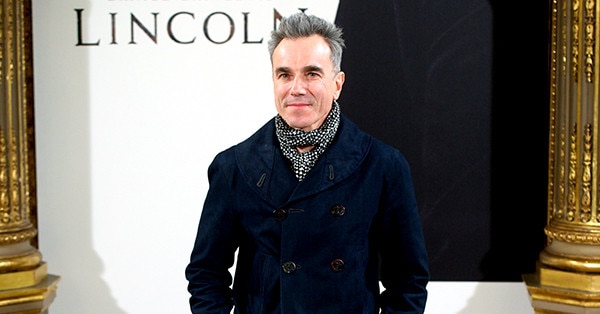 Carlos Alvarez/Getty Images
What would it take for you to walk away from the limelight?
For Daniel Day-Lewis, it's three Oscars and lifetime career of being considered the best actor in the business. But even all that couldn't keep the notorious method actor, who famously built a canoe for Last of the Mohicans, broke his ribs for My Life Foot and spent time in solitary confinement for In the Name of the Father, in the game.
Earlier today, the 60-year-old British actor made a surprise announcement, telling the world that he's stepping away from the stage and screen—for good.
In the statement, Day-Lewis' spokeswoman, Leslee Dart, confirmed the news: "Daniel Day-Lewis will no longer be working as an actor. He is immensely grateful to all of his collaborators and audiences over the many years. This is a private decision and neither he nor his representatives will make any further comment on this subject."
It may seem like a drastic move (which wouldn't be Day-Lewis' first), but this isn't the first time he's gone rogue and taken a break from acting. However, this is the first time he's said goodbye.
Yet, it turns out that while many would give their left foot (pun intended) for a shot at his kind of super stardom, Day-Lewis is not the only one in Hollywood who's hung up his old-timey 'stache and jaunty hat in search of something else.
Here are 10 other stars who've retired from acting: 
Sean Connery After filming Dr. No in 1962, the Scottish actor became Mr. Yes in Hollywood with over 90 film and television credits under his belt.
In June 2006, the Oscar Winner actor, who was 75-years-old at the time, announced his intention to retire and that's just what he's done He voiced a video game in 2005 and an animated film Sir Billi in 2012, but other than that all's been quiet with the former 007.
His last film was the super dud League of Extraordinary Gentleman, which came out in 2003. There were rumors he'd come out of retirement for Indiana Jones and the Kingdom of the Crystal Skull, but he didn't. Connery famously told the BBC that he didn't want to because retirement was "just too much damned fun."
Sidney Poitier: Despite acting in over 50 films and TV shows, the Guess Who's Coming to Dinner? actor has not appeared in anything since 2001. But that doesn't mean he hasn't been busy, Poitier's been working with the United Nations and was even awarded the Presidential Medal of Freedom in 2009.
David Caruso: The former NYPD Blue actor, who has serious rep for being seriously difficult to work with, hasn't done anything since CSI: Miami ended in 2012.
Dennis Franz: When NYPD Blue ended its 12-year run in 2005, the one-time acting powerhouse, who appeared in over 260 episodes of the show, said goodbye to acting to focus on his wife and family. He was 61-years-old at the time, but has yet to return to acting. The four-time Emmy winner did a rare interview with the New York Post back in 2015 and said now he spends his time with his grand kids and watching a lot of TV.
Linda Fiorentino: She once starred in Men in Black and Last Seduction, but the actress hasn't made a movie since starring in Once More With Feeling in 2009.
Gene Hackman: On July 7, 2004, the Royal Tenenbaums actor told Larry King that he had no future films lined up and stated that his acting career was over. In 2008, he confirmed that he had retired from acting. The screen gem's last film was Welcome to Mooseport in 2004.
Phoebe Cates: After starring in a plethora of films, including Gremlins, Fast Times at Ridgemont High and Drop Dead Fred, Cates said so-long to acting in 1994 so that she could spend more time with her son, daughter and husband Kevin Kline. Since announcing her retirement, she's only appeared in one film, The Anniversary Party, in 2001.
Doris Day: Appearing in Pillow Talk, The Pajama Game and The Man Who Knew Too Much, the singer/actress was a Hollywood icon but left Tinsel Town after filming the fifth season of The Doris Day Show in 1973. Since then she returned to TV to film two specials and one season of Doris Day's Best Friends from 1985-1986. But she has no acted. Que sera sera, right?
Shirley Temple: The Littlest Rebel/Little Colonel/Little Princess/Poor Little Rich Girl announced she was retiring from films in 1950 (probably because she was sick of being so little!). She was 22 years old. Temple briefly returned to the business of show in 1958 with a two-season television anthology series of fairy tale adaptations. Additionally, she made appearances on TV shows in 1960s and filmed a sitcom pilot that was never released.  In 1969, she went on to begin her lengthy career as a diplomat.
Rick Moranis: The funnyman took an 18-year hiatus from acting, although he did do voice-over work, after his wife died in 1997 so that he could raise his children. In 2015, he told The Hollywood Reporter that he may get back into acting but will be very "picky" when he does, refusing to do the latest Ghostbusters reboot. At the time he told THR, "It just makes no sense to me. Why would I do just one day of shooting on something I did 30 years ago?"
Moranis has still not filmed anything.