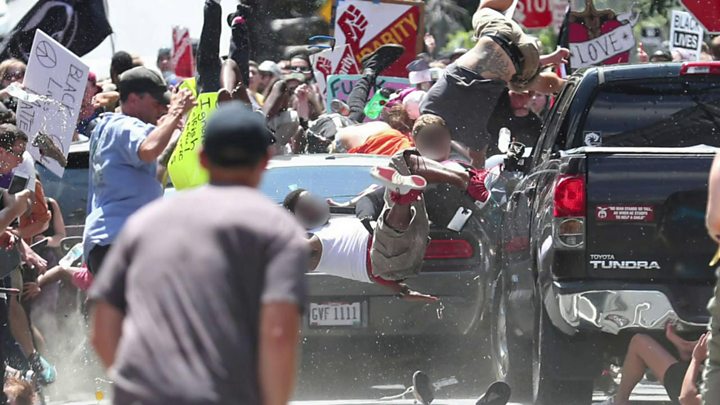 US President Donald Trump is facing criticism for his response to the violence at a white supremacist rally.
A woman was killed and 19 people injured when a car ploughed into a crowd of counter-protesters in Charlottesville, Virginia.
Mr Trump condemned violence by "many sides" – but stopped short of explicitly condemning the far-right.
Republican Senator Cory Gardner said "Mr. President – we must call evil by its name."
He added: "These were white supremacists and this was domestic terrorism."
His comments were echoed by senior Republican figures.
Hundreds of white nationalists converged for Saturday's "Unite the Right" march, called to protest against the removal of a statue of a Southern civil war hero.
The far-right demonstrators, who included neo-Nazis and Ku Klux Klan members, clashed with counter-protesters. People punched and kicked each other, and pepper spray, used by both sides, filled the air.
As the rally was dispersed, a car was driven into a crowd of counter-protesters, the force of the crash flinging people into the air.
Twenty-year-old James Fields from Ohio, the alleged driver, is in detention on suspicion of second-degree murder and the FBI has opened a civil rights investigation.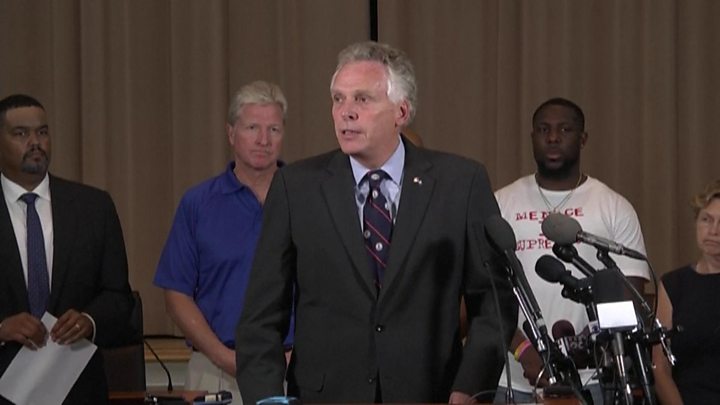 Apart from the car-ramming incident, Charlottesville police said at least 15 were wounded in other violence related to the far-right march.
The governor of Virginia, Terry McAuliffe, said that his only message for the white supremacists who had come to Charlottesville was "Go home".
---
A reckoning in Charlottesville, by the BBC's Joel Gunter
The white nationalists who descended on the small, liberal city of Charlottesville were a motley crew of militia, racists, and neo-Nazis, and some who said they simply wanted to defend their Southern history.
They gathered early in the morning at Emancipation Park where the statue of General Lee sits, some dressed in full tactical gear and openly carrying rifles. Others wore black shirts, helmets, and boots.
In a column they surged into the park, using sticks and their fists to shove aside anti-fascist counter-protesters. Then they blocked off the entrance with shields.
Inside, David Duke, the former grand wizard of the Ku Klux Klan, grinned and waved as the crowd, almost entirely white and male, cheered him on, chanting his name and putting their arms up in Nazi salutes.
They had reason to be pleased. They were in the middle of the largest gathering of white nationalists in America for decades.
---
Some observers say that Mr Trump's election to the White House has re-energised the far right across the US.
The Southern Poverty Law Center, a civil rights organisation, says that "Trump's run for office electrified the radical right, which saw in him a champion of the idea that America is fundamentally a white man's country."
In his response to Saturday's violence, Mr Trump condemned "in the strongest possible terms this egregious display of hatred, bigotry, and violence on many sides".
"The hate and the division must stop right now," he told reporters, speaking in New Jersey, where he is on a working holiday. "We have to come together as Americans with love for our nation."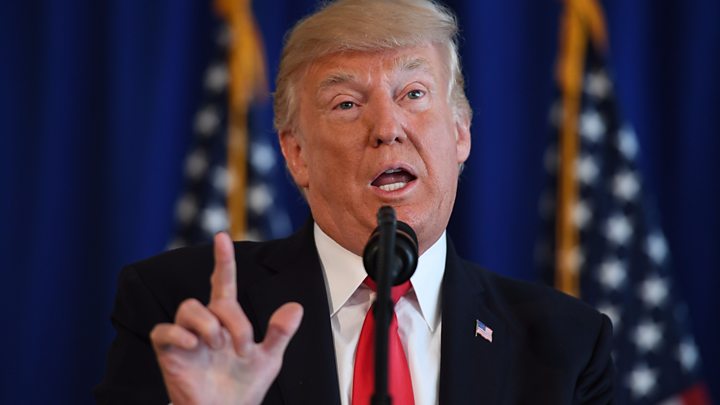 But that did not go far enough for both Democrats and members of Mr Trump's Republican party.
"Very important for the nation to hear [President Trump] describe events in #Charlottesville for what they are, a terror attack by #whitesupremacists," Republican senator Marco Rubio tweeted.
Another senior Republican, Ted Cruz, called the car-ramming a "grotesque act of domestic terrorism" and there were more strong words from Senator Orrin Hatch of Utah.
House Democratic leader Nancy Pelosi said "the President's talk of violence 'on many sides' ignores the shameful reality of white supremacism in our country today".
Mr Trump's former Democratic rival for the presidency, Hillary Clinton, said "every minute we allow this to persist through tacit encouragement or inaction is a disgrace and corrosive to our values".