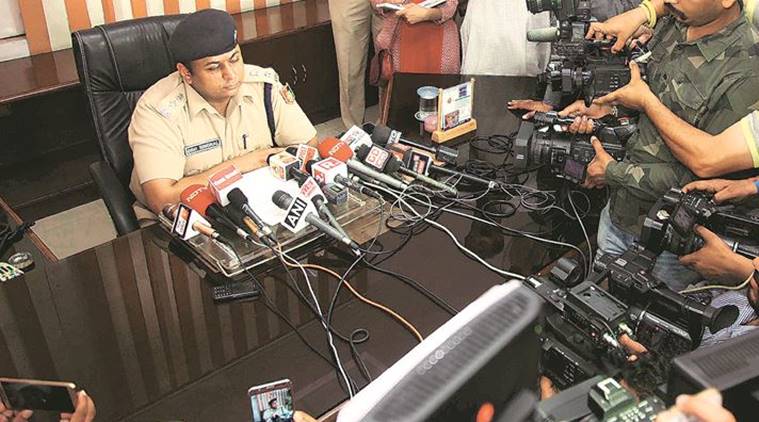 Chandigarh SSP Eish Singhal addresses the media at the UT Police Headquarters in Sector 9 on Monday (Express Photo/ Kamleshwar Singh)
Chandigarh police on Monday refused to include kidnapping bid sections in the FIR registered against Haryana BJP chief Subhash Barala's son Vikas Barala and his friend Ashish Kumar. Both Vikas and Ashish were booked on bailable offences of stalking and wrongful restraint on the complaint lodged by Varnika Kundu, daughter of senior Haryana IAS officer V S Kundu. Facing severe criticism, UT Senior Superintendent of Police Eish Singhal addressed a press conference to give an update on the police investigation in the case. However, he left the conference mid-way.
In the five-minute interaction that he did, Singhal made it very clear that Chandigarh Police was not in any hurry to include the charge of "kidnapping bid" in the FIR against Barala and his friend.
He said, "We are not working under any political pressure. Otherwise why would we register an FIR on the first day. We are investigating the case on merit. Our technical analysis of the CCTVs installed on the route on which the complainant was allegedly stalked, is going on. Once we complete our technical analysis, we shall proceed accordingly. In case any other section is required to be added in the FIR, we shall do that. So far, we have not included kidnapping bid charge in the FIR." Also read: Have CCTV footage of accused chasing victim, say police. Click here.
Singhal said, "The media should not conduct the trial in the case."
For the last two days, Chandigarh Police have faced criticism for diluting the charges levelled in the FIR against Barala's son and his friend. The offences mentioned in the FIR — Section 354(D) (stalking) and Section 341 (wrongful restraint) — are both bailable. Both the accused were arrested and released on bail within a few hours on the same day that the case was registered.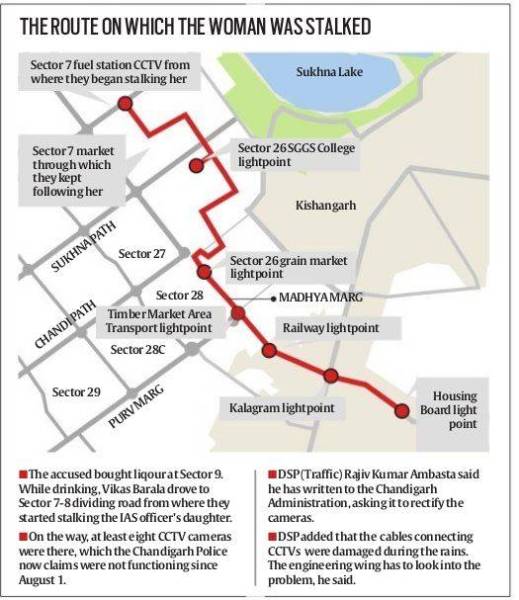 Later, Director General of Police Tejinder Singh Luthra, too, avoided speaking to the media.
The Deputy Inspector General of Police, Dr O P Mishra, too, refused to interact with the media on the issue.
Highly placed sources in the Chandigarh administration told Chandigarh Newsline that they were "not in favour" of Chandigarh Police's senior officers coming out and briefing the media "at this stage". Sources added that senior officers even "advised" DGP Luthra "not to hold the press conference", but he ignored the suggestion and went ahead. Sources said senior UT administration officers found the SSP's comments about a "media trial", which he made in the press conference on Monday evening "immature".
For all the latest India News, download Indian Express App