The Vice Chancellor of Benson Idahosa University, Prof. Ernest Izevbigie has urged Nigerians to give the President Muhammadu Buhari-led administration a chance, saying he means well for all Nigerians irrespective of our tribal differences.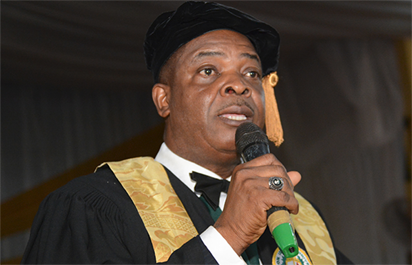 Prof. Ernest Izevbigie
He disclosed this at the Benson Idahosa University Annual Staff Orientation.
He noted that the president is a disciplined man working towards creating a better Nigeria.
He said, "To govern a country as big as Nigeria, you need a lot of vigor, support, and good people who will work with you to drive home your positive intentions.
"But I think he needs to revisit some of the people working for him, this is mid-term and people are already beginning to give their own assessment.
"Let him look at deliverables, I am always particular about deliverables because that is what propels me to do certain things and attain milestones." he said.
Prof. Izevbigie urged the President to look at the novelty and not to settle for status quo, adding that it is never wrong to sort new ways of getting things done.
He further encouraged him to seek advice from elder statesmen who have demonstrated capacity in leadership and good governance.
On the clamour for restructuring, he said political scientists know better.
In my area, Biochemistry, Medicine, I am not afraid to speak my mind.
"On the issue of Fanta and sprite, Benson Idahosa University has been on the fore front in bringing the scientific consensus to bed. So, when it comes to politics, let the Political Scientists pontificate because I can't claim to be an expert outside my field."
The don charged all staff members of the university to renew their commitment to their respective duties as they resume for the 2017/2018 Academic Session.
According to him, the essence of the Annual Staff Orientation exercise is to further gain employee's commitment, reduce anxiety among staff members and place Benson Idahosa University as the preferred brand among tertiary schools in Nigeria.
Professor Izevbigie expressed his appreciation to God, as well as to the University Council, Management and Staff for their commitment, hard work and dedication towards the successful completion and achievements recorded in the last academic year.
He described the cooperation of his Principal Officers as unique and commended members of Staff for their unflinching loyalty and unswerving allegiance.
Highlighting the achievements of the 2016/2017 Academic Session, he said the university has continued to demonstrate capacity in academic excellence.
He said, "Recently we just came back from JAMB stakeholder's summit where Benson Idahosa University ranked 10th most preferred private university in the country. Our products are doing well. The 2015 best graduating student, Ibude Ben Ikem, just got a scholarship from University of Greenwich, south-east London to study forensics."
He announced to the staff members the university's undying interest in grantmanship and research. He further reassured members of the public and the university's stakeholders that the institution will continue to strive towards the vision of its founding father in making Benson Idahosa University rank among the best Universities in the world.
Prof. Izevbigie hinted that the entire academic programmes of the university would be reviewed, while new programmes have been introduced to enhance the global competitiveness of the institution.