We set up Biafra secret service to protect our people, tackle herdsmen — Nnamdi Kanu
South East Senators engage Kanu, IPOB; Tell him to stop heating up the polity
By Henry Umoru, Anayo Okoli, Ugochukwu Alaribe & Enyim Enyim
First son of late Biafran warlord, Dim Chukwuemeka Odumegwu Ojukwu, Emeka Ojukwu, Jr. yesterday said President Muhammadu Buhari was right in his broadcast speech that he discussed the unity and indivisibility of the Nigerian nation with his late father.
This came as the  Leader of the Indigenous People of Biafra, IPOB, Mazi Nnamdi Kanu, yesterday said the organization set up Biafra Secret Service, BSS, to gather intelligence on the rampaging  herdsmen and to monitor the October 1 deadline quit notice issued to Igbo people in the North by a coalition of Arewa youths.
In a press statement made available to reporters in Awka, Emeka Ojukwu denied media reports that he made a statement that Buhari was wrong in his statement in the broadcast that he had discussions with his father on the unity of the nation.
"I want to state in an unequivocal terms that at no time did l grant any interview to any media or post anything on the social media."
His reaction followed stories making the round in the social media that  he (Ojukwu Jr.) replied Buhari's statements as untrue which Biafra agitators  have been describing as lies, demanding proof of President Buhari's meeting with the late Ikemba.
Continuing, Ojukwu Jr. noted that his late father actually held the said meeting with Buhari before his demise, adding that all that Buhari said in his nationwide broadcast were true.
"It has been brought to my attention that there is an article making the rounds on social media attributed to me, refuting the remarks of Mr. President concerning his relationship and discussions with my late father.
"Let me state  categorically  that I made no such comments to anybody, and secondly, that I am aware that Buhari's comments were indeed factual.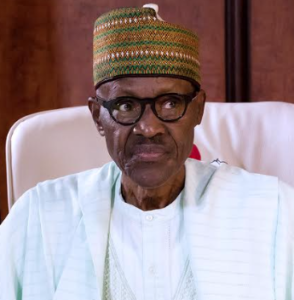 Buhari
"I have noticed a disturbing trend recently of fake news being attributed to me on social media. I don't know who is behind it or what their motivation might be but let me assure you that any time I feel the need to comment publicly on any matter, I will not do so via some anonymous email or anything."
Ojukwu Jr. urged members of the public to discountenance the stories in the social media or any media platform whatsoever credited to him that he accused Buhari of telling lies, warning that such malicious and damaging publications would not be taken lightly should it be repeated.
He also urged the president not to take such comments serious as it smacked of gutter and yellow media reportage aimed at overheating the polity.
Why  we set up Biafra secret service — Kanu
Kanu, who denied that IPOB  has set up an army, however explained that members of Biafra Secret Service bear no arms, as according to him, IPOB remains a non-violent organization.
Kanu who spoke to journalists in his Afara Ukwu Umuahia home, also reacted to the order by President Muhammadu Buhari to security chiefs to crush groups like IPOB, saying that they are not afraid of the directives "because IPOB is a peaceful organization".
He said the directive was to provoke IPOB but assured that they would not succeed as the group  cannot be pushed to bear arms.
The IPOB leader said that there are other intelligence groups such Odua Peoples Congress, OPC, in the West, and the Hisbah in the North, which bear arms, and wondered why the uproar about BSS that does not bear arms.
"In the North, there is Islamic Army (Hisbah), and no noise is made about that. Why is it when I want to safeguard the interest of Igbo people, that they now raised eyebrow. BSS members bear no arms; their job is to gather intelligence, with which we will disarm the Fulani herdsmen and stop them from the mayhem they inflict on Igbo people. We are not armed and won't be", he stated.
According to him, IPOB needed to set up the BSS  to avoid a repeat of the 1966/67 massacre of Igbo in the North which he said happened because there was no intelligence report,  adding that the October 1 quit notice would take Ndigbo by surprise as BSS has been busy gathering all necessary intelligence.
Reacting specifically to the presidential directives to clamp down on IPOB and other groups, Kanu said: "The alleged directive for a clamp down on IPOB is the continuation of the Buhari regime's dictatorial and wholesomely undemocratic approach to governance. I find it unacceptable, abhorrent and insulting that somebody elected by the people can turn around to dictate to them how he wants them to behave.
"We are not afraid because IPOB is a peaceful mass movement, not a violent armed group; there is a distinction that the world has to make, most Nigerians live in denial, they know the truth but chose to ignore it. The fact of the matter is that IPOB remains peaceful. You have never had one incident of even stampede let alone any crisis in IPOB gathering; we are the most disciplined, most peaceful mass movement in the world, and will remain peaceful. There is no record of altercation in our gathering where thousands of people come to hear the gospel of the actualization of Biafra.
"We have BSS to take up security of the South East and the issue of the rampaging Fulani herdsmen. With that, the menace of the herdsmen will be a thing of the past. We have BSS to give us information on the October 1 quit notice issued to the Igbo in the North. What IPOB is trying to do is avoid the massacre of Igbo people and to stop the mayhem by herdsmen.
On the alleged plan to re-arrest him, the IPOB  leader said he was not bothered about it.
"I don't care, I don't give a damn, re-arrest or no re-arrest, I shall defeat them in court, they have no case against me, the government of Nigeria has no case against me, if they want to get me re-arrested, that is left for them. Why did nobody arrest the Janjawees that issued quit notice to Igbo people in the North, is it because people are afraid of them ?" he said.
South East Senators engage Kanu, IPOB  
Meantime,  South East Senators yesterday had a marathon meeting with the leader of the Indigenous People of Biafra (IPOB) Nnamdi Kanu and his members, warning that they must not heat up the polity.
The South East Senators under the aegis of South East Senate Caucus, urged Kanu and his members to abide by the law of the land and conform within the rule of law.
The Senate caucus through its chairman, Senator Enyinnaya Abaribe held a meeting with Kanu in his Ohuru, Obingwa country home in Abia State on Tuesday.
Addressing the media jointly with Kanu after the meeting, Abaribe advised IPOB and other agitators in the country to conform their actions with due respect to Nigeria's laws and avoid any form of violence and any other action that can abridge other Nigerians rights.
According to him, "it is a majority consensus that all of us desire unity and a peaceful Nigeria where equity and fairness is entrenched and where no group or region would be treated as second class citizens."
Abaribe who assured that the South East Senate Caucus will always support and work assiduously for a united Nigeria, said that the South East Senate Caucus demand total restructuring of the country and devolution of powers in such  a manner that would assuage the feeling of despondency, injustice and near rejection within the Nigeria state, which to "us is the way to go and  the crux of the rising agitation in the land."
gagement for the good of our people and our dear country. All of us desire equality, equity, fairness in a peaceful and united Nigeria."
On his part, the IPOB leader who assured that his group will remain non-violent    in their agitation and promised not to derail on this, however    insisted that the group remains resolute in its demands for a fair and just society, which according to him is the spirit behind the agitation for Biafra through a referendum.
Kanu said, "We are not afraid in our quest,    but what I promise my elder brother is that we shall never fail them by resorting to violence. We can't and it has never been our approach."