Rapper, Cardi B Reacts After A Fan Said Her Parents Won't Allow Her Come To Her Show (Watch Video)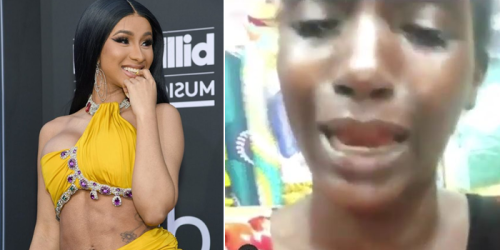 Popular American singer Cardi B has vowed to help a lady who couldn't attend her show which is scheduled to hold today, December 7th in Lagos Nigeria.
The lady had earlier shared a video where she expressed her desire to attend Cardi B's show.
In the now viral video, the lady declared Cardi B as her favorite artist and went on to disclose that her parents won't allow her attend the singer's show.
In her words:
"I don't know why this part we are from doesn't allow women to express their selves. I am not allowed to do as I wish. My favorite artist is around and I can't see her, I can't see Cardi B. Why it is not as if I can't afford the regular fee of 25k but my parents can't let me go."
Reacting to the lady's public outcry, Cardi B wrote;
"This makes me sad. Please parents let her come to my show. I understand why parents are strict with their children it's only for protection but I'II make sure she'II get home, don't get in trouble and don't leave my sight. I'LL treat like I treat my Lil cousins and I'm very tough on them. I'll give her 5 tickets to the concert, including the parents."
See videos below;