Bitcoin is still struggling to find a bottom this week.
The digital currency dropped 16 percent on Tuesday to its lowest level since Sept. 30, 2017, according to data from CoinMarketCap.com. Bitcoin fell as low as $4,200.22, according to data from CoinDesk, bringing its total losses in seven days to roughly 30 percent.
The price plunge came after weeks of rare stability for the world's largest and best-known cryptocurrency. While global markets churned in October, bitcoin traded comfortably in the $6,400 range — a break from volatility earlier this year. Its total losses this year are now more than 65 percent.
Its epic rise started right after Thanksgiving as it began to gain status as a household name. Since then, the cryptocurrency has fallen more than 42 percent. Bitcoin first topped $10,000 at the end of November and made it to nearly $20,000 a week before Christmas as retail investors poured in and two regulated exchanges prepared to launch futures markets.
Bitcoin may be feeling the effect of other global markets sliding this week.
"Global liquidity [are] suffering as [a] combination of trade tensions, tightening central banks, Brexit are causing correlations across markets to rise," Tom Lee, co-founder of Fundstrat Global Advisors, told CNBC Tuesday.
A drop below $6,000 earlier and other key technical levels this week triggered "stop losses" for some traders and likely exacerbated the selling. Those technicals "deteriorated" as bitcoin support levels were broken and the cryptocurrency continued to hit lower lows, Lee said.
"Markets around the world are fragile, and panic and sentiment are playing a disproportionate role right now," said Lee, former chief equity strategist at J.P. Morgan. "Does this mean bitcoin is broken? No. The use case is still there, but in the short term, panics are panics."
He also pointed to Securities and Exchange Commission enforcement against multiple cryptocurrency projects last week for the precipitous drop. The SEC announced its first civil penalties against cryptocurrency founders on Friday as part of a wide regulatory and legal crackdown on abuses and outright fraud in the industry.
Lee and others others pointed to a "fork" in the cryptocurrency bitcoin cash. That digital currency split into two versions last week — "Bitcoin ABC" and "Bitcoin SV" — adding to negative sentiment in broader crypto markets and diverted what's known as "hash power."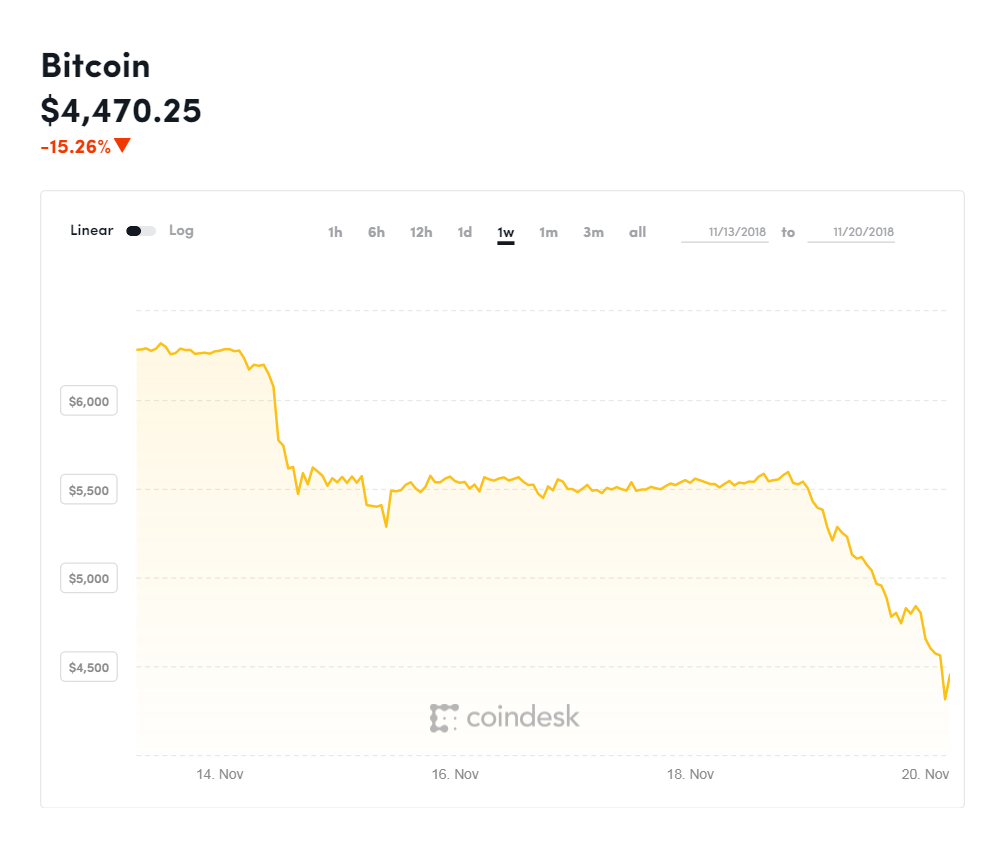 The drop also comes on the heels of a warning from European Central Bank Executive Board member Benoit Coeure at the Bank for International Settlements in Basel. According to Bloomberg News, Coueure called it "the evil spawn of the financial crisis," and said he agrees with BIS head Agustin Carstens, who in June called cryptocurrencies "in a nutshell, a bubble, a Ponzi scheme and an environmental disaster."
Clarification: This story was revised to clarify the summary lines that bitcoin has fallen to its lowest level since September 2017.