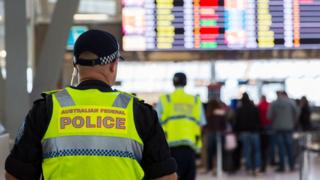 Two men charged on terrorism offences plotted two separate methods to bring down a plane, Australian police allege.
The first plot involved placing an improvised explosive device on an Etihad flight out of Sydney on 15 July, according to Australian Federal Police.
An alleged second plan was to set off a "chemical dispersion" device, but this plot was not close to being realised, police said.
Investigators said the alleged plots had been "completely disrupted".
"This is one of the most sophisticated plots that has ever been attempted on Australian soil," said Deputy Commissioner Michael Phelan.
Mr Phelan said the first plot involved a "high-end" military-grade explosive, but it did not get through check-in.
The components of the explosive originated in Turkey and were transported to Australia via air cargo, he said.
The second alleged plan involved creating an improvised chemical device that was designed to release toxic hydrogen sulphide.
However, he said that plan was not close to fruition when police conducted raids to disrupt the alleged plot on Saturday.
Two men will appear in court on Friday charged with "preparing for, or planning, a terrorist attack".