It took Andrew Pozzi 7.46 seconds to fly over four-and-a-half hurdles in the 60m final at the World Indoor Championships in Birmingham.
Sluggish out of the blocks and smashing hurdle No 2, he had no idea if his desperate lunge over the line had been worth it.
He spent 11 seconds clutching the hand of his nearest rival Jarret Eaton and a minute later, it was confirmed.
World Indoor champion – one-hundredth of a second ahead of the American. Wild scenes on the track and in the stands from all those who have backed him through thick and thin.
"That wait was part of the weekend I don't want to re-live!" the 25-year-old Sky Sports Scholar said.
"I honestly didn't know if I had won. I knew I was behind for most of the race and I hit the hurdle. Those championships were all about winning gold for me – I wanted it so bad.
"I was so fixated on the screen because sometimes the result just pops up. I didn't want to be the last to know! Jarret asked if I think I got it and I was speaking to him while it was all going on. The photo-finish came up and my eyesight isn't that good so I couldn't see!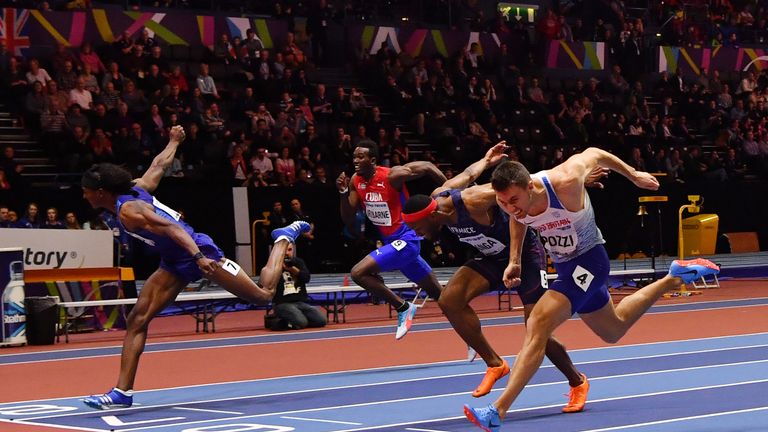 "Jarret told me I got it and then they announced it properly. It was sheer elation and I was just looking up at my family and friends in the crowd enjoying it."
The usual doping tests, medal ceremony and media commitments meant it was another five hours before Pozzi could properly celebrate.
"It meant so much to win," he added. "I would have been dejected with silver. The gold was everything I had been wanting for a year.
"Ever since I raced so well indoors last year, these Championships have been my biggest focus and I knew I just had to reproduce some of that form. To fulfil that is just amazing."
Pozzi's leaps for joy and fist-pumps in Birmingham – 70 miles from his home town Stratford-upon-Avon – were wholly understandable.
A hamstring injury ruined his London 2012 Games and feet surgery had him considering quitting the sport he adored. Missing out on the 110m hurdles finals at the 2016 Rio Olympics and last summer's London World Championships certainly didn't help the mindset.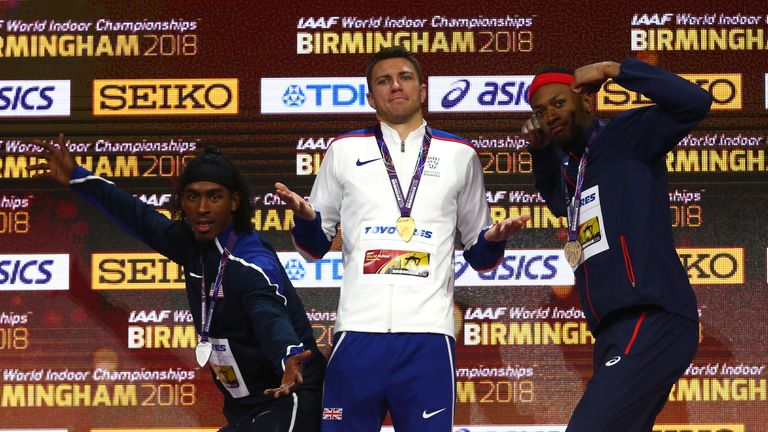 Gold at last year's European Indoors gave him hope. And now being world champion for the first time has reignited his belief.
"The only reason I stuck around over such a prolonged period was knowing I could win at the highest level," he added.
"I didn't want to just come back, make teams and take part. It was all about winning and getting to the highest level on the world stage. To start doing that is incredibly satisfying.
"It takes so much belief when you don't have evidence for it or results. So many people have bought into my dream and it's one thing to back yourself but to have other people do that makes it all the more sweeter."
Next up is the Australian Commonwealth Games in April followed by the Berlin European Championships in the summer. Pozzi is hunting more gold.
"I'm buzzing and I truly believe this is the start of bigger things," he said. "It's the start of a momentum of needing to reproduce this feeling time and time again.
"I've got great support and being a Sky Sports Scholar will help me because of the network it provides and the diverse expertise Sky has as an organisation.
"Making that expertise available at my fingertips will help me manage my career so much better.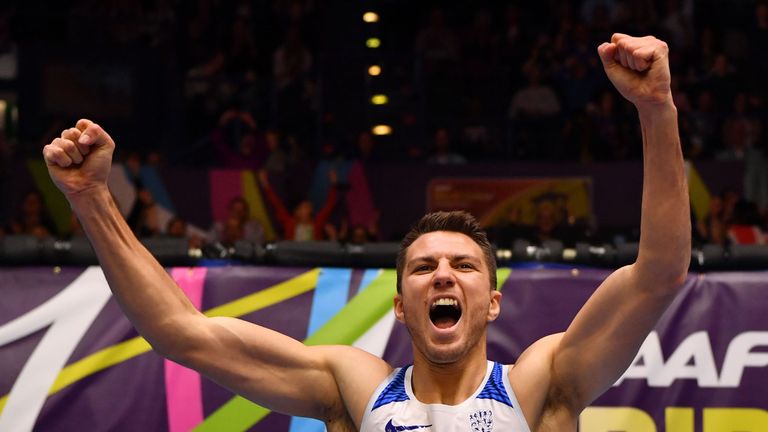 "I want to start delivering at all indoors and outdoors championships. It's taken me a long time to catch up but with two summers under my belt I'm going to take that form into every championship expecting to win a medal and deliver."
With success comes attention, interviews and autograph requests. Might that be a problem?
Pozzi says: "It doesn't bother me. I like a quiet life and I'm not huge on social media. I train, compete and try to be the best athlete I can be. Thankfully, I won't get that well known."
That may just change after his efforts Down Under next month, in Germany this August and at the 2020 Tokyo Olympics.
Also See:
Petr Cech admits Arsenal have not been up to standard this season