By Omezia Ajayi
THE National Chairman of the APC, Chief John Odigie-Oyegun has assured that the Party will conduct a free, fair primaries and ensure a level playing ground for all the Party's aspirants.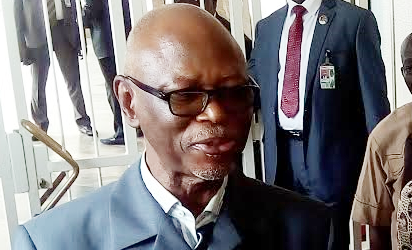 National Chairman APC, Chief Odigie Oyegun
The APC national chairman said this when he met with the Party's twelve aspirants for an interactive session at the APC National Secretariat on Wednesday. He said: "I decided that I should meet with you and know you more formally, have an interactive session with you because we do hear a lot of things and we hope that if there are any gaps or anything you want us to do which we haven't done, this will be the opportunity to put this down, to vocalise them and we will see what we can do.
"What is important is that I want you to be happy, I want you to be satisfied that we are going to have a truly free, fair primaries and a very level playing ground. That is the main purpose for this meeting."
Speaking earlier, the APC National Organising Secretary, Sen. Osita Izunaso expressed confidence that the Party will win the Anambra governorship election. He reeled out the Party's election timetable. "Mr. Chairman, the aspirants are on the field moving round the entire state, canvassing for votes not only for the primaries but for the main election. They have been able to sensitize the state and I am sure that at the end of the day, God being on our side, we will win that election." he said.
On the Party's election timetable, the APC National Organising Secretary announced thus: Screening of Aspirants (Thursday to Friday August, 10-11 2017); screening Appeal (Monday to Tuesday, August 14-15, 2017); primary Election (Saturday, August 19, 2017); primary Election Appeal (Monday, August 21, 2017).
The twelve aspirants are: Chukwuma Paul; Madu Nonso I.; Moghalu George N.; Nwibe Bart; Nwike Patrick N.; Nwoye Tony; Obidigbo Chike; Okonwko D.; Onunkwo Johnbosco O.; Uba Andy E.; Uchegbu Adoabi K. and Uzoh Obinnaý.
Also, at a separate event, the Party's National Organising Secretary, Sen. Osita Izunaso inaugurated a seven-member screening committee for the Party's aspirants vying for the Anambra governorship seat. The committee is chaired by the Ondo State Deputy Governor, H.E. Agboola Ajayi.
Other members are: Hon. Dattuwa Ali Kumo; Barr. Awele Nwoko; Vice Admiral Ishaya Ibrahim; Sen. Usman Wowo; Hon. Halims Agoda and Alh. Ba'aba Umar.