By Reuters
Last Updated: 21/06/17 6:59pm
Dani Alves joined Juventus last summer
Brazilian Dani Alves has asked to leave Juventus, the Italian champions' chief Giuseppe Marotta said on Wednesday.
Alves, 34, had a spectacular impact in his only campaign in Serie A after eight trophy-laden seasons at Barcelona, helping the Italian team to a league and cup double and playing a crucial role in driving them to the Champions League final, where they lost 4-1 to Real Madrid.
SSNHQ reported earlier this week that both Manchester City and Chelsea are interested in signing Alves this summer.
The flamboyant Brazilian's relationship with the club began to deteriorate after the defeat in Cardiff, however, and his recent behaviour has angered supporters.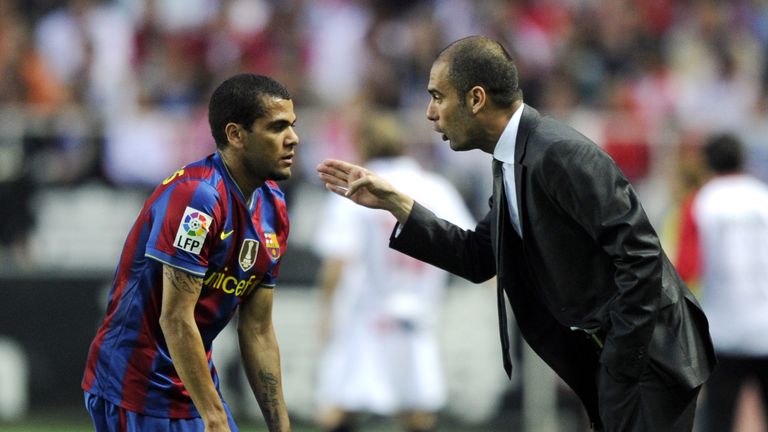 Alves has been linked with a reunion with Pep Guardiola at Manchester City
Last week Alves said in an interview with Brazilian TV that Juventus forward Paolo Dybala needs to leave the Serie A giants one day in order to improve as a player.
On Monday he further baffled fans by posting a picture of his boots from Barcelona's 3-1 win over Juve in the 2015 Champions League final on his Instagram account, and Marotta revealed Alves has asked for a way out of his two-year contract with the club.
"Dani Alves has decided that he wants to change his surroundings, so we will come to a mutual agreement and we wish him luck," Marotta told reporters on Wednesday, quoted in daily Gazzetta dello Sport.
"There has been no break-up with Dani, but motivation is fundamental for any footballer."
Chelsea have also had a bid rejected by Juventus for Brazilian left-back Alex Sandro, according to Marotta.