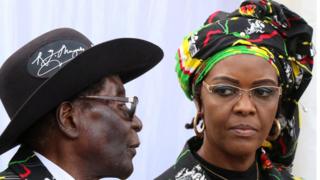 Zimbabwe's first lady, Grace Mugabe, is due in court in South Africa following reports of an alleged assault, South Africa's police minister says.
Fikile Mbalula said: "She's not under arrest because she co-operated and handed herself over to the police."
She is alleged to have attacked a young woman at a Johannesburg area hotel.
The woman, 20, accused Mrs Mugabe, 52, of hitting her in the face and put images of a head wound on social media. Mrs Mugabe has not yet commented.
South African police confirmed that the 20-year-old had registered a case of assault with intent to do grievous bodily harm.
The reason for the alleged attack is not clear.
The attack is said to have happened on Sunday evening.
---
Who is Grace Mugabe?
Began affair with Robert Mugabe, 41 years her senior, while working as a typist in state house
Mr Mugabe later said his first wife Sally, who was terminally ill at the time, knew and approved of the relationship
Married Mr Mugabe, her second husband, in 1996 in an extravagant ceremony. They have three children
Nicknamed "Gucci Grace" by her critics who accuse her of lavish spending
Along with her husband, is subject to EU and US sanctions, including travel bans
Praised by supporters for her charitable work and founding of an orphanage
Received a PhD in September 2014, a month after being nominated to take over the leadership of the Zanu-PF women's league
---
Zimbabwe Information Minister Christopher Mushowe told the BBC that he was unaware of the allegation.
Mrs Mugabe was in South Africa to be treated for an ankle injury, sustained during a road accident last month, when the alleged assault took place, according to Zimbabwean media.
It is not clear whether she was travelling on a diplomatic or a normal passport.