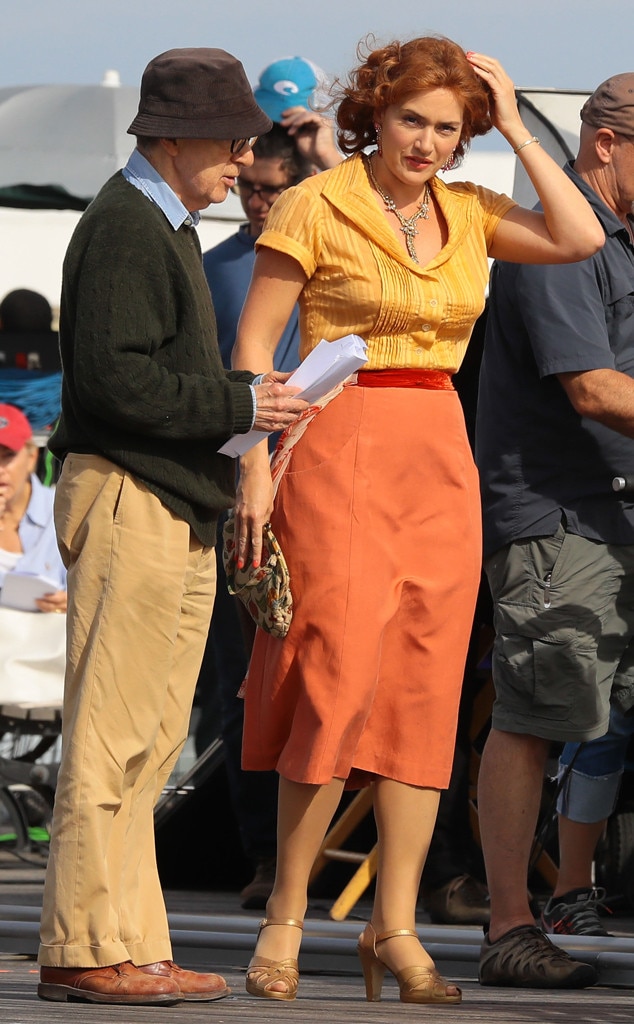 Ignat/Bauer-Griffin/GC Images
The sexual allegations made against Woody Allen in the past did not deter Kate Winslet from working with him.
In 1992, the famed director's former partner Mia Farrow accused him of molesting their then 7-year-old adoptive daughter Dylan Farrowwho echoed the allegations in 2014 in an open letter published by the New York Times. Allen has denied the claims. He has never been charged with a sex crime.
When asked if the allegations against Allen gave her pause, Winslet, who stars in his new film Wonder Wheel, told the New York Times in an interview posted Wednesday," Of course one thinks about it. But at the same time, I didn't know Woody and I don't know anything about that family."
"As the actor in the film, you just have to step away and say, I don't know anything, really, and whether any of it is true or false," she added. "Having thought it all through, you put it to one side and just work with the person. Woody Allen is an incredible director. So is Roman Polanski. I had an extraordinary working experience with both of those men, and that's the truth.
In 1977, Polanski was convicted of sexually abusing then-13-year-old Samantha Geimer in Los Angeles and spent 42 days in pre-trial custody after making a plea bargain. He then fled the United States out of fear that he would be given a longer prison sentence should the agreement be overruled. Last month, a judge rejected Geimer's request to have the criminal case against him dismissed.
Winslet told the New York Times that she felt she "probably wasn't going to get another go-round with Woody Allen, so it's now or never."
"And it was an extraordinary part, that I could not believe he was asking me to play, so just the flattery of being offered the role was enough," she said about her Wonder Wheel role, a clam restaurant waitress. "The only reason I wouldn't have done it would have been fear, and that is no way to live a life, man."
"Plus I knew my parents would be incredibly proud of me working with Woody Allen," she added. "My mother passed away in May. Every day I would call her on the way home [from the set] and she wanted to know absolutely everything about the day. It was a really big part of the last few months of her life. I feel grateful that I did it."
Blake Lively and Kristen Stewart, who starred in Allen's 2016 movie Café Society, have also been asked about how they felt working with him despite the allegations made against him.
"It's amazing what Woody has written for women," Lively told the Los Angeles Times, adding that any news coverage of Allen's personal life did not register as she was making the movie.
"It's very dangerous to factor in things you don't know anything about," she said. "I could [only] know my experience. And my experience with Woody is he's empowering to women."
Stewart told Variety that she initially had concerns about working with Allen because of the allegations and sought co-star Jesse Eisenberg's advice.
"I was like, 'What do you think? We don't know any of these people involved. I can personalize situations, which would be very wrong,'" she said. "At the end of the day, Jesse and I talked about this. If we were persecuted for the amount of s–t that's been said about us that's not true, our lives would be over. The experience of making the movie was so outside of that, it was fruitful for the two of us to go on with it."
Eisenberg told Variety he does not recall the conversation.