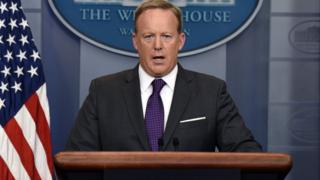 White House Press Secretary Sean Spicer has quit, reportedly in protest at a shake-up of the communications team.
Mr Spicer stepped down because he was unhappy with President Donald Trump's appointment of a new communications director, reports the New York Times.
Combative Wall Street financier Anthony Scaramucci has been picked for the role that Mr Spicer partially filled.
Mr Spicer's press briefings were a cable news hit, but he withdrew from camera in recent weeks.
The shake-up comes as the White House faces inquiries into alleged Russian meddling in last year's US presidential election and whether Mr Trump's campaign team colluded with Moscow.
The New York Times reports that Mr Spicer "vehemently" disagreed with the appointment of Mr Scaramucci, which he believed to be a "major mistake".
---
Spicer's low points
inflating crowd sizes at Trump inauguration at first briefing
his appearance, particularly his suits, reportedly criticised by Trump
saying Hitler never used chemical weapons and referring to Holocaust "centres"
butt of text message joke by adviser Steve Bannon about his weight
defending Trump "covfefe" tweet by saying it had hidden meaning
frozen out of meeting with the Pope in Rome, despite being devout Catholic
not invited to Paris for Trump visit
---
The search for a new appointment began after Mike Dubke resigned from the communications director job in May.
Mr Spicer has been serving as both press secretary and communications director since Mr Dubke's exit.
On day one in January, Mr Spicer set the tone of his relationship with the press by bursting into the briefing room to berate journalists for their reporting of crowd numbers at President Trump's inauguration.
His proclivity for gaffes and garbling of his words, as well as making debatable assertions, soon saw Mr Spicer's name trending on Twitter.
He was mercilessly lampooned on the topical comedy show Saturday Night Live, where Melissa McCarthy played him as a gum-chewing, loud-mouthed thug who brandished his lectern at reporters.
Mr Spicer became something of a punchline when he reportedly sought refuge by a hedgerow on the White House grounds to evade reporters' questions on the night Mr Trump fired the FBI director in May.