As the Nigeria Professional football league heads for an interesting sprint with six matches to go, the chairman of title contenders Akwa United, Mr. Paul Bassey has come out to say they cannot continue the league without the four players in the Super Eagles camp in Kano.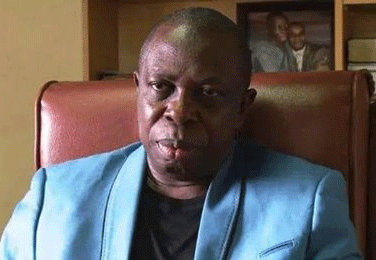 Paul Bassey
Bassey told reporters in Maiduguri Monday that he was not one to make excuses for failure. " Due to our match with Rivers United in Port Harcourt on Wednesday, I sought for permission from the LMC for a shift which was denied due to fixture congestion., which I accepted in good faith. But you can imagine playing on Wednesday and heading immediately to Maiduguri for a Sunday encounter. It took its toll yesterday. We have been very unlucky going into the last lap of the league as the team has been plagued by injuries and absence of key players. It is not only about Ojo who did not stand between the posts yesterday due to injury. Of the four goalkeepers in our squad only one is available. We are working round the clock to get Ojo fit for the week end. Emmanson and Iwu are down. Only Shagari is okay.
Of the four regular defenders, Godspower Igudia is burying his father this week end, Kodjo Dadzie has been on admission for stomach ulcer for two weeks running leaving only Ariwa and Skipper Ottobong Effiong.
Move to the attack. Christian Pyagbara and Moses Ebiye have left the country for the proverbial trials, Gideon and Amaechi may not be fit before the season ends while Adio's knee injury has been stubborn four months running.
"You can see why we cannot do without the four players invited to the CHAN Eagles camp. Before now we had told the NFF and the LMC that for you to invite four players from Akwa United while others are limited to a maximum of two ( Except Rangers) and refuse to release them was to indirectly give our adversaries undue advantage especially at a time like this.
The FIFA/CAF Match commissioner said in his discussions with Coach Salisu he had repeatedly said he will guarantee express return to camp of his players whenever they were released to play.
"After our match in Port Harcourt, I put them on a plane from Port Harcourt to Abuja and in Abuja they took another flight to Kano to guarantee prompt and stress free arrival"
I thank Salisu for his understanding.
With a great chance of going continental, the CAF General Coordinator and CAF Instructor  on Club licensing said any  attempt to deprive him the use of his players at such a crucial time as now will mean working against the aspirations of not only the club but the good people of Akwa Ibom State Governor Udom  Emmanuel who has been very supportive in the quest for an historic league diadem in the life of the club
"I may not be a coach but I believe competitive matches at week ends will leave the coach with  match fit players to the country's advantage. Salisu does not need to lock them up for weeks. He knows them very well. I will be surprised if he does not already know his starting eleven against Benin by now. He is that intelligent
"We have teams who are faring better than us in the league yet only two of their players are called to camp. Others have just one. You can imagine our predicament where three of our midfielders and the only reliable central defender are not available. Yes three midfielders.  I hope we have done nothing wrong", he asked.
Akwa United are guests of Sunshine Stars of Akure this weekend in Ijebu Ode.