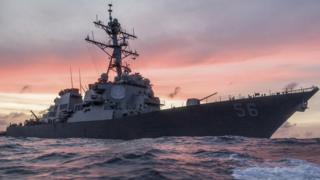 Ten sailors are missing and five injured after a US destroyer collided with an oil tanker off the coast of Singapore, the US Navy says.
The USS John McCain was sailing through the Strait of Malacca and preparing to stop in Singapore when it struck the Liberian-flagged vessel.
A search and rescue operation is under way.
It is the second serious collision involving a US Navy ship within two months.
The latest collision, which was reported at 06:24 local time on Monday (21:24 GMT on Sunday), happened as the USS John McCain prepared to perform a routine port stop.
Initial reports said that the ship had "sustained damage" to its port side. The US Navy said local authorities were assisting with "search and rescue efforts".
In June, seven US sailors were killed when the USS Fitzgerald collided with a container ship in Japanese waters near the port city of Yokosuka.
Those who died were found in flooded berths on board the ship after the collision caused a "big gash" under the warship's waterline, the US Navy said.
According to maritime rules, vessels are supposed to give way to ships on their starboard side.