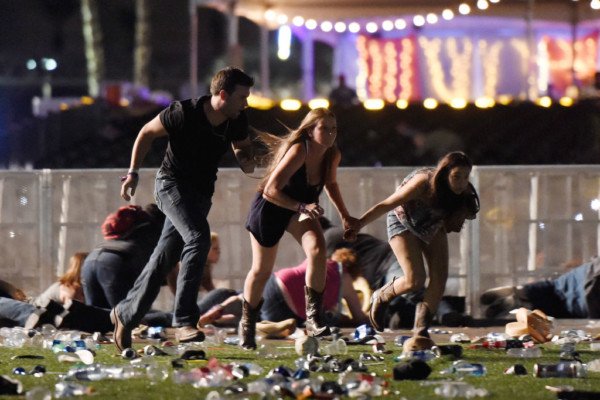 At least 50 people have been killed, with over 100 injured, in a shooting near the Mandalay Bay Resort and Casino in Las Vegas.
Musician Jason Aldean, the last performer of the night, performed at the Route 91 Harvest country music festival when gunshots broke out.
The music stopped and people shouted "Get down," "Stay down," as the gunfire continued.
Video courtesy of Drew Akioshi. He was attending the concert at mandalay bay when shooting started. pic.twitter.com/mbyh9Y387q

— David Sakach (@davidsakach) October 2, 2017
SWAT teams were quickly sent to the hotel, where after a few hours, they reported 1 suspect was down.
Confirming that one suspect is down. This is an active investigation. Again, please do not head down to the Strip at this time.
Later, authorities said they suspected there weren't any more shooters, and it was just one gunman, a local who was on the 32nd floor.
At this time we do not believe there are any more shooters. More information to come shortly from @Sheriff_LVMPD.
WATCH: The Las Vegas Metropolitan Police Department confirms there are more than 20 killed and over 100 injured on shooting incident.
See photos below:
Images from the active shooter scene so far around Tropicana and Las Vegas Boulevard #RJnow
Southern California police department says off-duty officer shot during Las Vegas concert attack http://bhne.ws/Uf9Ly7V