Last Updated: 24/05/17 10:45pm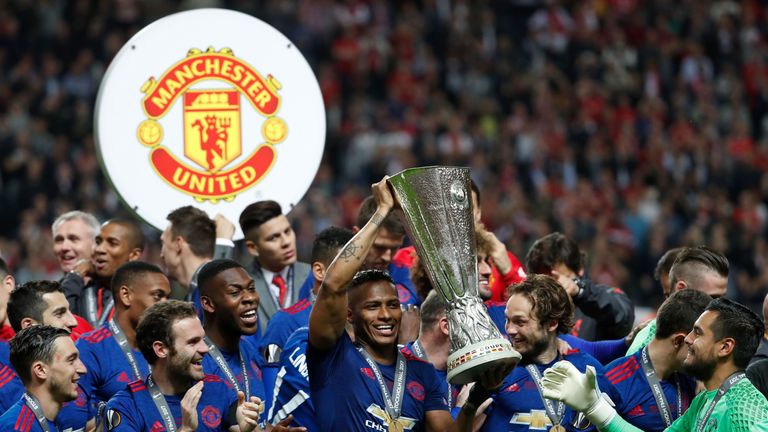 Manchester United's players celebrate their 2-0 victory over Ajax
Manchester United beat Ajax 2-0 in the Europa League final amid an emotional atmosphere in Stockholm, writes Adam Bate.
It was heartening to see the celebrations. Paul Pogba dancing around Stockholm's Friends Arena in sheer delight. Marcus Rashford conducting the crowd, enjoying his first taste of European silverware with a flag in his hand. Manchester United victorious again and a spirit of hope and excitement among the smiling supporters in the stands.
The hope was, of course, particularly poignant. The tragic events in Manchester on Monday hadn't just overshadowed the Europa League final build-up but engulfed it. Ultimately, the occasion, if not the game itself, was illuminated by it – turning the triviality of football into something a bit more. A celebration for those determinedly clinging to their right to joy.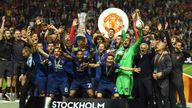 United win Europa League
Manchester United secured an emotional 2-0 win over Ajax in the Europa League final in Stockholm
They chanted for United. They chanted for Manchester. Again and again as the players ran out. When the call was for silence, they responded with applause. Defiance. There were cheers and there was the many banners. These supporters had come to Stockholm in their thousands for the sort of shared experience that football – like pop concerts – can provide.
The pre-match press conference had been cancelled, Jose Mourinho opting instead for a well-judged statement. "I know, even during my short time here, that the people of Manchester will pull together as one," it read. That proved prescient and United's players stepped up to the occasion too.
Players respond
It does not need tragedy to put football into perspective. But nor would it be entirely accurate to suggest that just because the result of a game had been rendered unimportant, this somehow took the pressure off United's players. In one respect, it heaped it upon them. After all, they would have felt like the ones with the power to provide a lift, however small.
Their response was a credit to them and the club. Pogba embraced the moment. Winning headers. Intercepting the ball. Bestriding midfield as he had away to Celta Vigo. A bully as well as a brilliant player. Picking passes, setting the tone and then – via a fortunate deflection – coming up with the opening goal. A look to the heavens in celebration.
Phil Neville says Wayne Rooney must leave United if he wants to play regularly
Players stuck doggedly to the plan. Chris Smalling put his head in where it hurt. Juan Mata tracked back to protect Antonio Valencia against the trickery of Amin Younes. Matteo Darmian was a picture of concentration in withstanding the threat of Bertrand Traore on the opposite flank. Ander Herrera and Marouane Fellaini typified the team's work rate.
This was not United at their most expansive. It was a night for other qualities. The qualities of Mourinho. "We have a job to do and we will fly to Sweden to do that job," he had said. And so, Rashford was more willing runner than wonder kid. The choice of Mata over the Mancunian Jesse Lingard, a pragmatic decision. "I need his brains," explained Mourinho.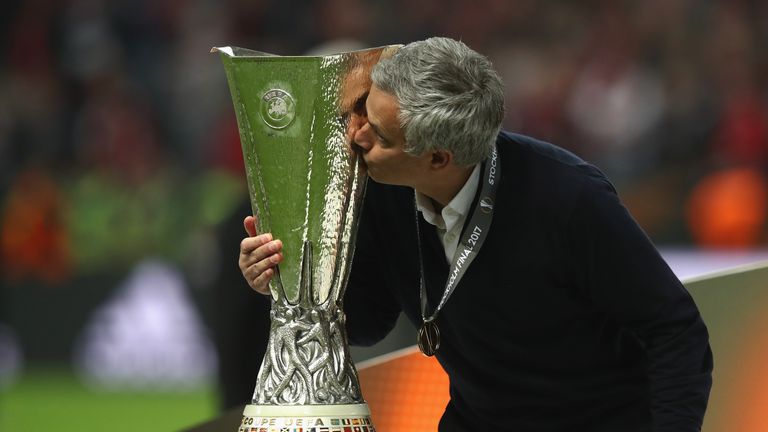 Jose Mourinho kisses the Europa League trophy after the club's win
His own brains were key. Indeed, finals bring out the best in Mourinho. No need for talk of philosophy, style or taking the long-term view. Just the opponent and the result. More often than not, he can stifle the former and deliver the latter. Ajax's attacking threat was nullified and, just as in his two Champions League wins, his team walked away with a clean sheet.
Mourinho leaves Stockholm with his reputation intact. He has not only secured Champions League football but also added the Europa League trophy to the EFL Cup and Community Shield wins. Curiously, a club and coach who make silverware acquisition their business have now won more of them this season than the rest of the Premier League's teams combined.
But while this was no new revelation about Mourinho or United, it was a night where the manager found out a little about his players. Perhaps the fans did too. In a difficult season, they delivered under pressure and showed the qualities that fans came to see. Still just a game. But one that provided some comfort for those in the Friends Arena and back home.