UFC Welterweight Champion: Nigeria's Usman Beats Colby Covington To Win His 11th Straight UFC Fight And Retain The Welterweight Title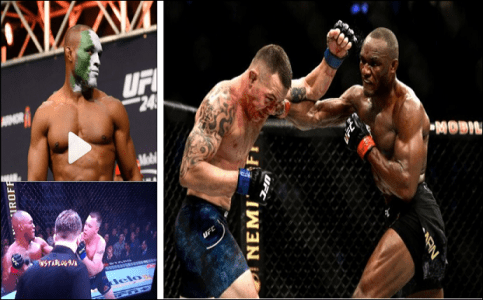 Nigerian born, welterweight champion Kamaru Usman has retain his
title in an eagerly-anticipated fight with Colby Covington ,
who was previously the interim champion of the division.
The UFC 245 main event saw Kamaru, who is known as the
'Nigerian Nightmare' defeated Covington in the final round after multiple
knockdowns, in a contest that saw the two elite wrestlers strike throughout.
Usman outboxed Covington on the feet for nearly five rounds of an epic two-way duel before finishing him via fifth-round TKO to defend his 170-pound title at UFC 245. Covington fought with a broken jaw in Round 3 and finished the fight a bloody and swollen mess after being dropped twice in the final round.
"This one is not just for me but for the whole entire world right now. I heard all week, all month since the fight got signed that Colby was in my head and this or that. I'm telling you right now the reason I'm the best in the world is because my mind is stronger than anyone in the division" Usman said. after the fight.

FURIOUS pace early in R1! ?

Usman and Covington couldn't wait to get their hands on each other! #UFC245 pic.twitter.com/6YyVKE0RIi

— UFC (@ufc) December 15, 2019